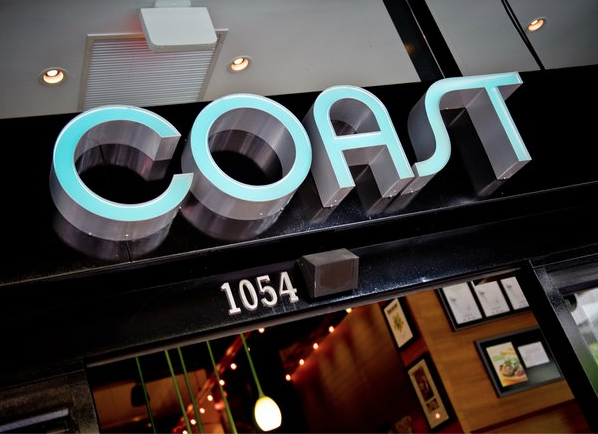 Went to the Glowbal Group's Coast Restaurant (1054 Alberni Street) for a (belated) Valentine's Day meal this week.
We started off with the King Crab Temura Roll ($15) which is pretty much the king of the sushi menu, as the most expensive roll on the menu.  The tempura crab pieces were layered on the outside of the roll, and the fish roe topping were a bright, vibrant green, which topped off the dish with a unusual but vibrant look.  A delicious starter, and the spicy aioli gave it a subtle fusion kick.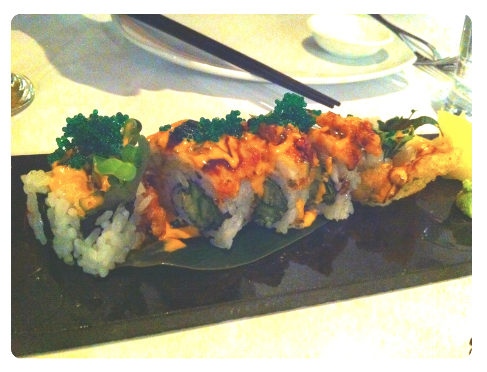 The menu offered options of ordering seafood or steak items pretty much a la cart, but we found that the most diverse menu option, and value for the assortment of food items you get, were the Coast signature dinner platters.  You could choose the "Chilled" platter ($33) with atlantic lobster, a jumbo prawn cocktail, alaskan snow crab legs, dungeness crab, honey mussels, salmon sashimi, spicy tuna sushi roll and shucked oysters. We opted for two orders (which is the minimum order) of the "Hot" platter ($34) instead which came with sockeye salmon, ling cod, wide sea tiger prawns, qualicum scallops, seasonal vegetables and potato gnocchi.
The presentation was mouthwatering, with a healthy, vibrant range of colours.  But the food items were a bit plain and seemed to lack creativity – it was simply high-quality seafood, cooked well, but nothing out of the ordinary.  The seasonal vegetables were asparagus, brussel sprouts and cherry tomatoes.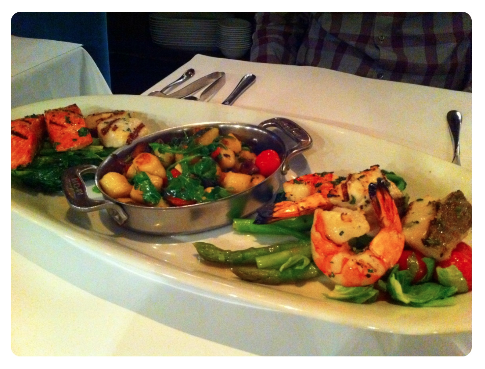 For dessert we had caramelized banana and coconut cake, which was served in a single portion cast iron pan.  Absolutely delicious, the cake was soft, moist and spongy, and the caramelized banana was very sweet.  This is a great choice for those with a sweet tooth, but as an alternative to chocolate desserts.
Overall, Coast is the one  Glowbal Group restaurant which specializes in a nice West Coast seafood meal.  Their menu is very extensive; you could return many times and order a different combination of dish and sides each visit.  For those of your who are hoping to continue your night after Coast, head to O Lounge for drinks next door.