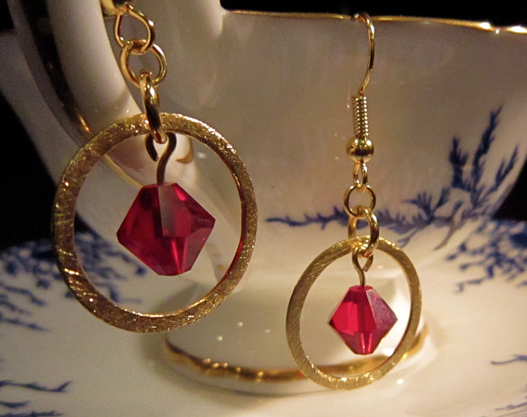 Laurie Simpkins of Smitten Designs focuses on creating sleek, modern designs, mixing semi-precious stones or Swarovski crystals with sterling silver, gold-plated or silver-plated chains. She often uses vintage chains or findings, juxtaposed with contemporary elements to create a unique, sophisticated look that's chic and fashion-forward, yet also timelessly classic.
"Smitten" speaks to the inner love affair that we women have with accessories — be they shoes, handbags or most importantly, jewellery. It beckons to us, not just as a means to express our own personal style, but because it makes us feel uniquely feminine and beautiful.
Laurie is a born and raised Vancouverite as well as a longtime Yaletown resident. Before turning to designing jewellery, Laurie studied Fine Arts and later, Art History, at UBC, where she obtained her B.A., with a focus on eighteenth and nineteenth-century French art.  She started designing jewellery only a year ago. In fact, she registered for her first jewelry making course right around Valetine's Day last year.
MMV:  What sets you apart from other jewelry designers?
Laurie: I think my look is unique as I generally keep it simple and classic, yet with a modern edge, to keep it fashion-forward. I always use only semi-precious stones or Swarovski crystals with fine chains and I also like to incorporate vintage pieces (be they findings or chains) into my work to create a juxaposition between the vintage aesthetic and a more modern look.
MMV: What are your goals for Smitten in its 2nd year, in 2012?
Laurie: I would hope that this year is a really successful year for smitten. I hope to expand a lot in the retail sector as well as launch online sales from my website (smittendesigns.ca) in the near future. Smitten truly is a love of mine; a great passion, which is subconsciously perhaps why the name appealled to me so much.
MMV: Anything to say to Modern Mix readers about the upcoming Valentine's Day?
Laurie: I was saying to some friends the other day that Valentine's Day is a day that singletons dread and couples just pray their partners will remember; so no matter which category you're in, I think it's important to be smitten for YOU, as the most important relationship we have is with ourselves.
Smitten Designs is available for purchase at Lord's Shoes on Granville, Jules & Eve in Kerrisdale, as well as Changes on West 10th.
MMV Giveaway: Modern Mix Vancouver is giving away a pair of Gold and Red Swarovski Earrings (see image above) by Smitten Designs. Leave a comment below telling us what being "smitten" means to you and a random winner will be chosen from the comments below. Be sure to leave your email address so we can contact you if you're a winner. Contests ends Tuesday February 14th (11:59pm PST). Open to Canadian mailing addresses.
For additional entries, you can do the following things;
For a second entry: Follow @ModernMixVan on Twitter and tweet "I want to win earrings from @smitten_designs from @ModernMixVan http://bit.ly/xX9YXl RT to enter!"
For a third entry: "Like" the Modern Mix Vancouver Page on Facebook and post on the wall "I want to win a pair of earrings from Smitten Designs from Modern Mix Vancouver! http://bit.ly/xX9YXl"