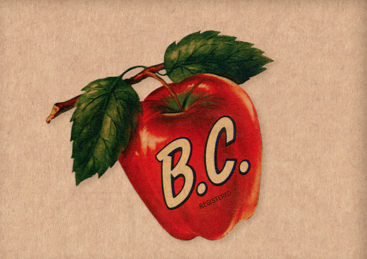 Last night, Modern Mix Vancouver was invited to a BC Tree Fruits event at V Lounge at Earls Yaletown to celebrate the 52nd annual Apple Month. In honour of apple month, the Earls Head Chef Martin Keyer created a custom apple-inspired menu and specialty apple spiked beverages to highlight the best of BC Tree Fruits produce.
My favourite taster of the night was the candied bacon, apple and blue cheese crostini.  Loved the sweet, crunchy bacon, paired with the crispy, tart granny smith apple slice.  And the blue cheese added a wonderful creamy texture to the bite sized delight.  This would be a super easy apple-inspired appetizer to make the next time you have to bring a dish to a social gathering.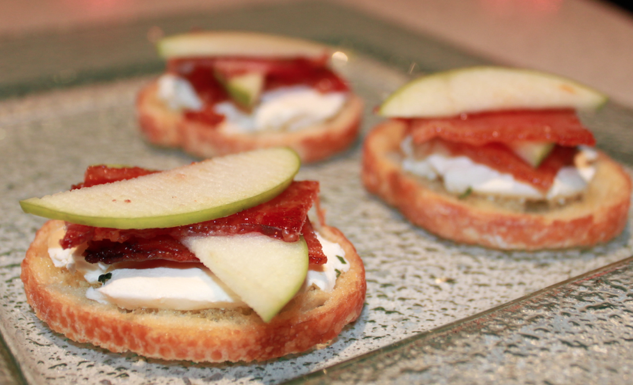 The chicken brie and apple sandwich would make a great lunch.  A similar (if not the same) version of this sandwich is available on the Earl's menu for $13.50.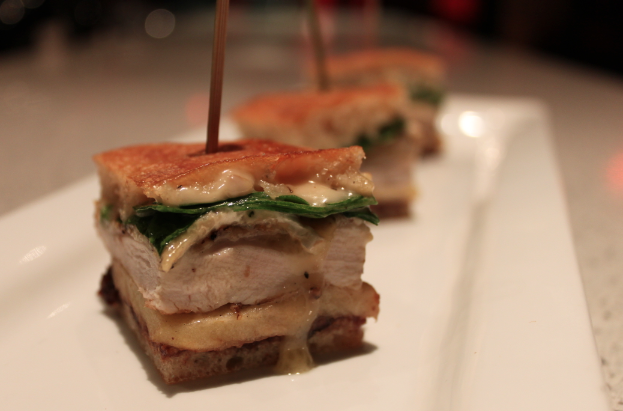 For those of you more inclined towards the sweet apple flavour, these baked pies on a stick were a fun twist on your traditional apple pie.  A thick crunchy crust enveloped warm apple filling.  Might be hard to make on your own, but the idea of having pie on a stick can be inspiring.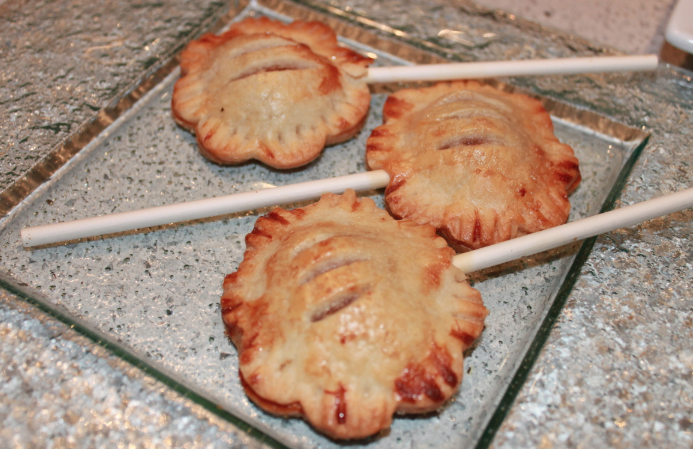 So there you go, three apple-inspired bites in celebration of Apple Month!  At the end of the evening, each guest received a jar of "Apple Pie In-A-Jar" to take home, which is the creation of Mijune Pak of Follow Me Foodie.  Apple Pie In-A-Jar has an almond crust, Mexican vanilla bean and cardamom spiced Ambrosia and Gala apples, a crispy salted buttercrunch layer and topped with a maple cinnamon creme brulee … and all fits into a jar!
For the rest of February, while you're out grocery shopping during Apple Month, you will notice additional displays of B.C. Tree Fruits apple varieties available at this time of year, including Royal Gala, Ambrosia, McIntosh, Spartan, Red Delicious, Golden Delicious, Granny Smith and Fuji. You will also be able to sample apples in various produce stores during the month.