Weekend Brunch Series – Cafe Zen (1631 Yew Street )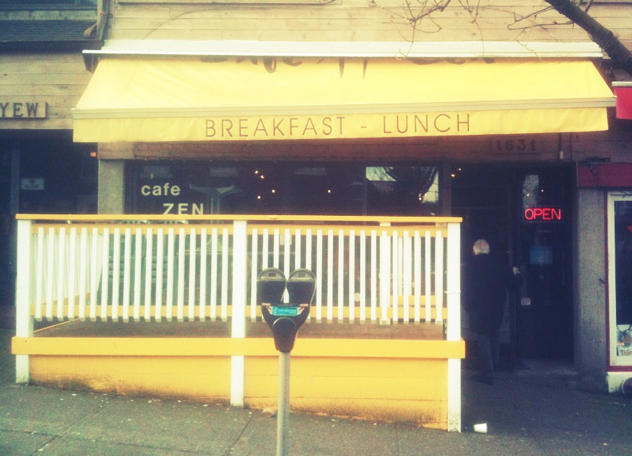 By Carolyn Fung, Modern Mix Vancouver writer
An unexpected find this Sunday in Kitsilano was a cozy little brunch spot called Café Zen.  This restaurant is almost hidden on the street – so much so that you might walk past a few times before realizing its there but when you finally do discover it, you get that  feeling that you've found a true "local" spot.  When you first walk in your greeted by tables that fit the restaurant wall to wall. As a true believer that the more tables that are filled in a restaurant the better it is, I was sold on giving it a shot.
The jam-packed restaurant at 10:30AM on a Sunday was actually comforting, giving the feel of a neighborhood cafe rather than a pretensions, spacious breakfast spot.  For weekend brunch my rule is to detour from my healthy eating to indulge in some of my favorite guilty pleasures. For me, this means eggs benedict, with lots of hollandaise sauce, side fries and ketchup.
Before stumbling upon Café Zen, I had never been to a breakfast place that offers so many Eggs Benedict combinations. With an entire section of the menu dedicated to 15 variations of my favorite breakfast this place is no joke. I ended up going with Eggs-Flo Greek with spinach and feta cheese, which also seemed to be a popular choice amongst other patrons.
For a healthier option, I couldn't help but eavesdrop on the woman next to me who had the same order except with egg whites only and the hollandaise sauce on the side. The restaurant was extremely accommodating to her request and it looked equally as delicious!
Brunch starts from $9-$12 and includes much, much more than just benny's – there are many other breakfast options, including a fresh bowl of fruit! For a full list of what they have to offer click here, but beware of the weekends – go early to miss the out-of-the-door line up!