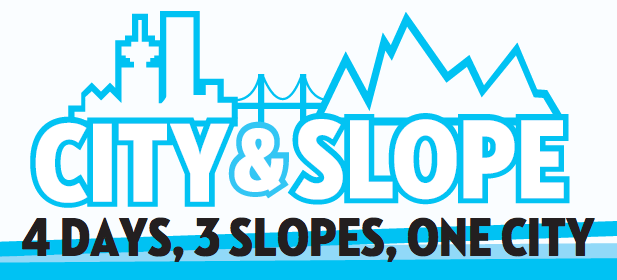 By Alicia Woodside, Modern Mix Vancouver Fitness Writer
Do you miss that epic party, also referred to as the Olympic & Paralympic Winter Games' Cultural Olympiad?
Wether you soaked in never-ending parties at cultural houses, visited our local mountains in a new light, or let your hair go at amazing gigs around the city, we Vancouverites were sad to see our amazing global party come to a close in 2010. Encore, anyone?
Welcome, City & Slope!
In true 2010 fashion, Vancouver's brand new signature winter festival celebrates our unique city and the winter sports, art, and music that we love. From February 10-12, expect a jam-packed weekend that brings you back to 2010, when the local mountains and party venues come alive with special events, and the streets of Yaletown light-up with the free lluminate Yaletown. Expect big name performers like Benny Benassi, local favourites like Hey Ocean, and special events at all the local mountains, including the spectacular 24 Hours of Winter at Grouse.
I had the chance to speak with Gregory Hegger, who is one of the organizers for this first-annual event. Greg set me straight with a few of my questions.
MMV: Hey Greg! We are excited to see a lot of Olympic connections here. How is this event going to be similar to the 2010 Olympics?
Greg: We want to harness that feeling that people had during the Olympics, that buzz in the air… the feeling that the city was alive! We definitely want to get that feeling back. With City & Slope, it's that same combination of winter sports, music, and arts, that's very inherent to Vancouver. Our company was involved in producing Heineken House, Vancouver House, and Alberta House during the Games, and so some of the City & Slope events will have the same feel. We're tying this in to the Grouse legacy, with their 24 Hours of Winter, as well as the Cypress Olympic Legacy, where we will be taking over a lodge and giving it a Canada House feel with bands and activities, called Canadiana! We have a schedule online with all the events.
MMV: For our friends who already maxxed-out their credit cards this month, what would recommend as the top free event during City & Slope?
Greg: Definitely Illuminate Yaletown! It's a completely free event, concentrated on Mainland Street, which we have closed down to cars from Nelson to Davie. There will be 20 different artists creating light projections, live ice-carving performances, building mapping, and as Mini Yaletown is a sponsor, we will see some creative art installations with Mini cars.

MMV: For the well-heeled types, what would recommend as the top splurge during City & Slope?
Greg: Definitely the pass to all the mountains, and the Benny Benassi concert at the Vancouver Convention Centre, which is expected to sell-out… We have some great "Stay and Slope" hotel deals and packages that combine music, skiing, and hotel deals, so a staycation would be the best way to spend an amazing weekend!
MMV: What is your vision for the future of this event?
Greg: Our goal is to have this every year, and eventually as a weekend-to-weekend, ten-day festival. We see this becoming Vancouver's signature event.
For a complete schedule of events, we recommend you surf on over to City and Slope's website here, and you can find out about some awesome packages here.