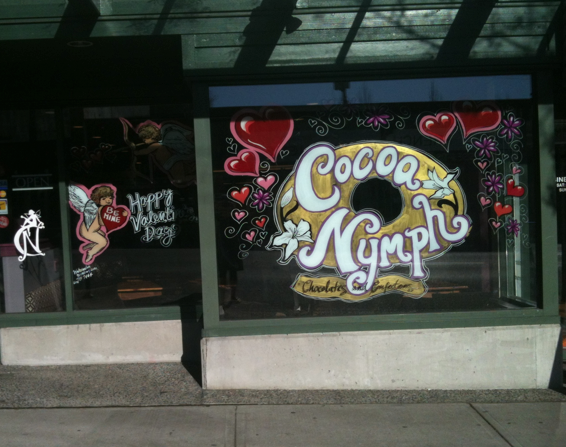 By Carolyn Fung, Modern Mix Vancouver writer
You haven't had a real hot chocolate until you've tried one form CocoaNymph.  Unlike the milky, water downed version you might expect from ice skating rinks and ski chalets, real hot chocolate is an entirely different experience.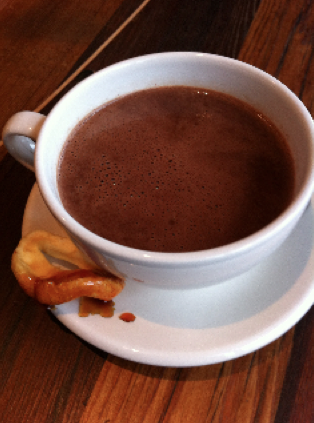 Thick and creamy I had the pleasure of being one of the first to taste CocoaNymph's newest creation for the hot chocolate festival: Maple Cinnamon drinking chocolate with a caramelized apple ring. This flavorful combination is just one of 15 flavors available at CocoaNymph throughout the year. When asked how this creation came to be, owner Rachel Sawatzky immediately gave credit to a team effort. A true believer in the power of collaboration, Rachel and her team regularly come up with new pairings that are sure to leave you wanting more.
Going into their fourth year in Vancouver, CocoaNymph is located near 10th and Alma. The first thing you notice when you walk into the store is smell of chocolate so rich you can literally feel the room start to warm you inside. In the front of the room is a white baby grand piano where beautifully decorated truffles are featured. The décor gives you a comforting feeling, as if every single piece of furniture was lovingly created to be a part of the room. Next to the cashier you'll find a display of truffles and 2 chalkboard menus that include 10-15 flavors of drinking chocolate, 9 flavors of home made marshmallows, coffee drinks and tea.
Originally from Winnipeg, Rachel acknowledges how nice it is to have her business in Vancouver. Recognizing the growing recognition for her art as a chocolatier, she feels it's a great city with access to an extreme variety of ingredients she can play with. Always creating and being inspired the food culture in the city, Rachel is currently experimenting with pairings like beer and chocolate. Among her latest challenges include the creation of a chocolate dress, complete with chocolate accessories.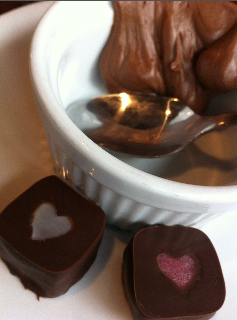 With Valentines days just around the corner, Rachel & her team are gearing up with a line of 4 bon bon creations so tempting that you might just want to treat yourself . Here's a list of what you can expect:
Mischief – Milk chocolate champagne ganache in a milk chocolate shell. Created with the perfect mixture of a hard shell complimented with a soft centre.
Blush – Dark chocolate and rose ganache. You can taste sweet hint of rose that isn't overpowered by the chocolate taste. It's a match made in heaven.
Desire – Milk chocolate whipped ganache with cinnamon (airy and light) with a dark chocolate shell
Luscious – Dark chocolate with a cherry centre in dark chocolate shell.
These unique creations can be bought as single pieces or as set. CocoaNymph has 5 box sizes and has created 3 special Valentines Day boxes including one that is made entirely of chocolate.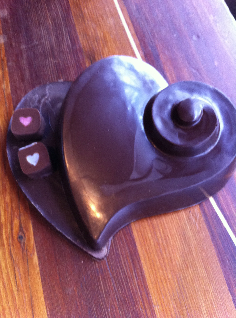 On February 14, CocoaNymph will also be hosting a Valentines special. For $12.00 each you and a loved one could cozy up to a solo classical cellist while enjoying some delicious chocolate treats.  You can also find CocoaNymph chocolate at local retailers including Whole Foods, Urban Fare and Edible BC. Year round, the location on 10th & Alma offers workshops, chocolate pairings, and a list of chocolate combinations that are sure to make you melt.
Happy Valentine's Day!