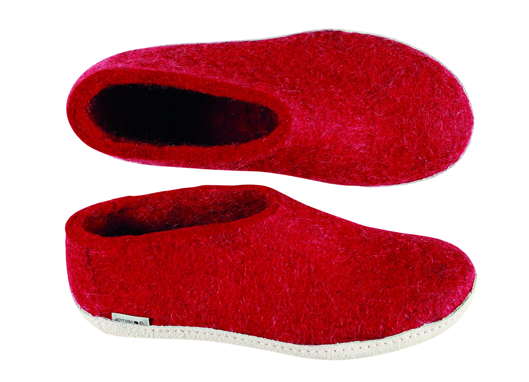 Cold feet about winter? Come warm up with Glerups!  Founded in 1993 in Denmark by Nanny Glerup (you were probably wondering where the name came from!), Glerups slippers are made naturally from felted wool and an all-natural leather sole.  Now available in Canada, Glerups are an awesome pair of premium slippers to keep your feet warm in the winter – especially if you have hardwood floors like mine!
Glerups come in three styles for both men and women:
The "slipper" embodies the classic characteristics of a slip-on indoor shoe
The "shoe" allows you to get the warmth and comfort of an on-the-foot shoe .  I have this pair in red (shown above) and I love how the sole is made of soft leather and the roominess of the shoe itself allows my feet to breath.  I also found that over time, the felted wool molds slightly to the shape of my feet so they get even more comfortable over time.
The "boot" style Glerups is best for those looking for an all-around insulator.  The boot offers full foot coverage all the way up to the ankle.
Glerups come in a variety of vibrant, earthy colours, making them a versatile choice that will suit anyone's personal style.  Glerups are available online at glerup.ca for $99 and in-stores at Twigg & Hottie on Main Street and Walrus on Cambie Street.