By Carolyn Fung, Modern Mix Vancouver writer
As someone who likes to pride herself on a simple makeup routine there is one thing I rarely ever leave the house without and that is mascara. Having stick straight lashes that point downwards, finding the rights brand that gives me volume, length, and definition seems too good to be true. At this point, I feel like I've tried them all. For those of you who may have similar problems, worry not. Over the last 10 years I have tried, tested and spent an embarrassing amount of money on finally finding something that works.
For my lashes, the solution involve layering two kinds of mascara on top of each other and curling right after the first coat so that my lashes have a bit of 'hold'. The other day, I was absolutely delighted when a coworker actually noticed my…eyelashes? This was a shock to me that anyone would ever notice and for once, I felt like all my dedicated years of trial & error paid off.
Of all the different brands of mascara I have tried, these have stood out the most. Here are my top 4 picks that fit your budget from $9.99 – $30.00: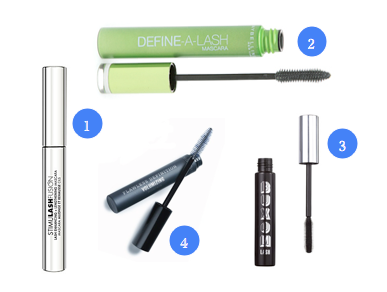 Fusion Beauty Stimulash Fusion Mascara ($30.00) – This mascara from really surprised me in terms of how well it works to define your lashes while giving them a fuller appearance. The trick is to let the first layer dry and keep building upon with new layers for a darker, more defined look. In terms of stimulated growth I've yet to see any results but this is the mascara that got my eyelashes noticed! You can find this mascara at Murale or Sephora.
Maybelline Define-A-Lash $9.29* – The most budget friendly option, this mascara is my favorite for two reasons. First, the wand. It's made of defined, short bristles that ensure you never get that clumpy look. In the past, I've used this to layer on top of a volumizing mascara that might be a bit heavier. The second thing that is great about this is that it truly lengthens your lashes to give you that wide eyed-twiggy look. You can find this mascara at any drug store including Shoppers Drugs Mart, and London Drugs.
Bare Escentuals BUXOM $19.00* – This has been my go-to all mascara for over a year now. It's thick brush, with defined bristles not only separates lashes but build lots of volume. You can find this mascara at Sephora – but be warned the last time I checked they were on backorder!
Bare Escentuals Volumizer $18.00* – This mascara usually works best when I layer it on top of Bare Essentual BOXOM. On its own, I haven't seen the same kind of results as the others. It does volumize but also tends to clump so make sure you have a dry mascara brush to help you separate some of these pieces. Still one of my favorites to experimenting with! You can find this mascara at Murale or Sephora.