Modern Mix Vancouver Weekend Brunch Series – If you're a foodie on a budget, going for brunch on the weekend is a great way to check out a restaurant without breaking the bank.
I went to Glowbal Grill in early January when they had a promotion for 25% off breakfast and brunch.  I requested sitting outside because I love the enclosed patio at Glowbal and the heat lamps were a perfect contrast to a sunny winter day.  Our meal started off with complimentary strawberry smoothies in shotglasses and warm sugar donuts served in round dim sum baskets.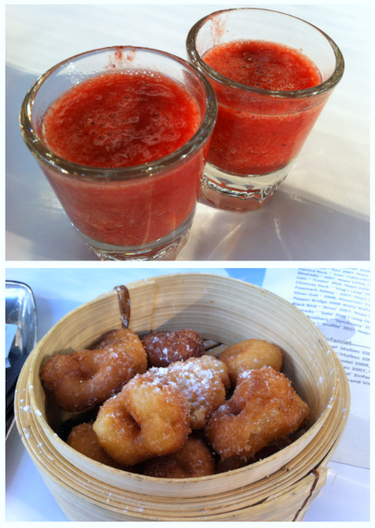 Since our complimentary starters were sweet, we decided to go with more savoury dishes for brunch.  I'm a huge fan of benedicts and at glowbal you can get your choice of the "Glowbal Benedict" ($12.95), Smoked Salmon ($12.95), Dungeness Crab ($16.95) and Lobster ($16.95).  I got the  classic Glowbal Benedict which is made with pancetta and drenched in a rich, creamy, buttery hollandaise sauce.  The poached eggs were done perfectly, a bright buttercup-yellow yolk coming out from bright white egg-white.  The pancetta (salt cured italian bacon) was extremely salty – had to drink about 3 glasses of water after my meal and probably maxed out my sodium intake for the day.  The diced potatoes were fluffy with a crispy exterior and the salad was necessary to balance out the saltiness of the pancetta.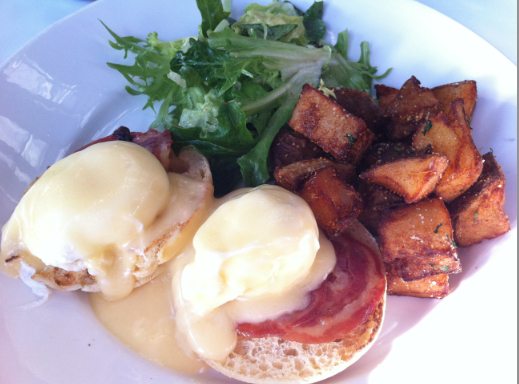 Off the menu as a special order we were told about there was a Breakfast Poutine ($12).  French fries, cheese curds, sliced sausage and bacon topped with two poached eggs and a hearty gravy.  Sounds like a hangover breakfast to me!  It actually kind of reminded me of the midnight poutine one would get at Fritz on Granville (minus the eggs).  I would recommend sharing the breakfast poutine with someone because it's such a heavy breakfast…you wouldn't normally eat a massive plate of fries and poutine to yourself, so perhaps this would be a good dish to share.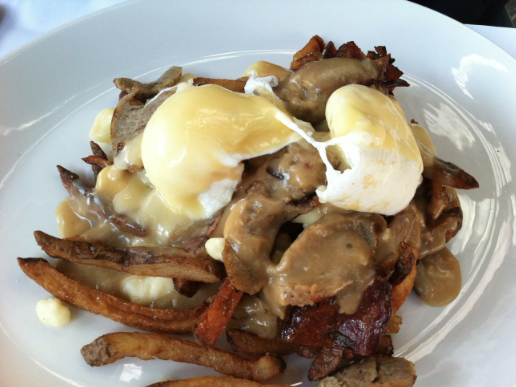 Overall, the Glowbal Collection of restaurants has a great reputation for being a higher-end but affordable restaurant.  It's location in the heart of Yaletown makes it a convenient meet-up spot and after brunch you can spend the rest of your morning browsing through cute boutiques in the area. They are also a regular annual participant in Dine Out Vancouver (for dinner only), this year, with a $38 3-course set menu.