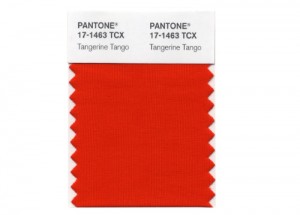 Pantone's 2012 colour of the year is Tangerine Tango, a bright, fruity, attention-grabbing, revitalizing, energetic, tropical red-orange.
 A winner in cosmetics because of its versatility, Tangerine Tango is a bit exotic, but in a very friendly, non-threatening way. Add a sultry flair to lips, cheeks and nails with Tangerine Tango. An unexpected eye shadow color, Tangerine Tango is a complementary opposite that flatters blue or green eyes. When paired with brown eyes, it brings out an amber cast.

Energize interior spaces with Tangerine Tango patterned home accessories. Pillows, bedspreads and tabletop accessories in this high-impact hue add spice to any room. Or incorporate Tangerine Tango appliances and personal electronics for an unexpected pop of color. Looking for an inexpensive way to perk up your home? Paint a wall in Tangerine Tango for a dynamic burst of energy in the kitchen, entryway or hallway.
We've scoured the internet for items available in Vancouver which are sure to get heads turning towards you in 2012 and blast away the winter blahs.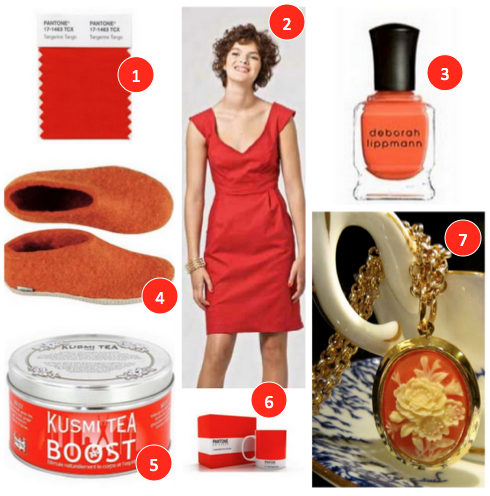 Pantone Swatch "17-1463" – Also known as Tangerine Tango.
Allison Wonderland "Portrait Dress" in red –  According to Vancouver-based designer Allison Smith, colour blocking is in.  The portrait dress from the Allison Wonderland Spring 2012 collection is fun and flirty, and makes a statement without being too formal. ($194 available at Allison Wonderland)
Deborah Lippmann "Lara's Theme" – A "dare to wear" shade in a tangerine orange.  Deborah Lippmann's nail lacquers is 3-Free (no formaldehyde, toluene and phtalates) and made with the finest ingredients, offering more than just gorgeous color, but also treatment benefits. Natural ingredients strengthen, hydrate, stimulate nail growth and prevent ridge formation ($20 available at Spa Boutique on West 4th Ave)
Glerup "Wool Slipper" in Orange –  Indoor slippers originated from Denmark and now available in Vancouver.  Made from 100% natural wool, made into socks and felted with steam to mimic the shape of your foot with a leather sole.  ($99 available online at glerup.ca, other colours available at Twigg & Hottie on Main Street and Walrus on Cambie Street)
Kusmi Tea "Boost" – A blend of mate, green tea and spices help naturally stimulate body and mind through this loose leaf tea. ($20 for Kusmi brand teas at Homewerx on Davie Street and Vancouver Special on Main Street).
Pantone Mug – official memorabilia from Pantone, this is a definite collector's item for colour lovers. ($25 available online at Pantone.com)
Smitten Designs – local designer Laurie Simpkins is the designer behind this tangerine-coloured flower cameo with two strands of gold-plated chain (available for $89 at Jules & Eve in Kerrisdale and Changes on West 10th, other pieces available at Lord's Shoes on South Granville)