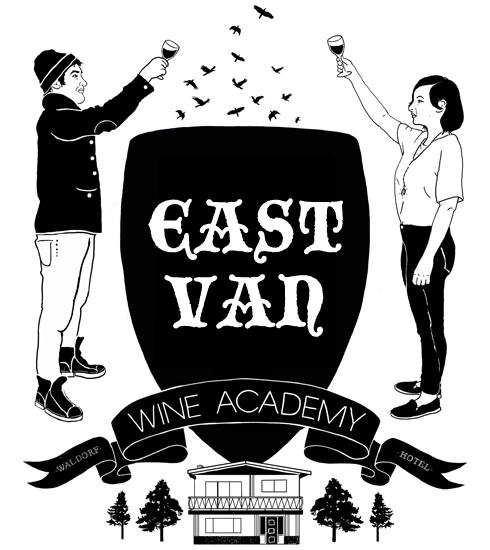 Started by local wine writer and consultant Kurtis Kolt about a year ago, the East Van Wine Academy produces wine-related events "that don't suck" at The Waldorf Hotel. All events are produced and hosted by Kurtis, who "likes a good time just as much as you do".  Recently, Modern Mix Vancouver had the opportunity to do a quick Q&A with Kurtis and learn more about his background in wine and his visions and involvement with the East Van Wine Academy.
MMV: How did you develop your expertise in wine and how did you get into wine writing?
Kurtis: I developed my wine knowledge by working my way up through the restaurant industry, from bussing to serving, managing and so on. Along the way I've taken courses which helped me grow by leaps and bounds. I'm certified by the Wine & Spirits Education Trust (WSET) and have credit in the Winemaking department of UC Davis. Most of all it's been constant tasting, whether at home or trade events. The writing aspect came from being asked here and there for the odd tasting note or recommendation from certain magazines, and finding I really enjoyed that process.
MMV: When did you start the East Van Wine Academy?
Kurtis: About a year ago. I constantly hear from people that they'd love to learn a little more about wine, but don't want the time or financial commitment of taking a 'serious' academic course. I saw a place for fun, casual, educational wine evenings that would help people navigate store shelves or wine lists that where I could impart some solid basics that are totally easy to grasp but generally elusive to the average consumer. My goal is to share my enthusiasm of wine while breaking down those needless hurdles that prevent people from trying new things or increasing their knowledge.
MMV: Why did you choose to focus on East Vancouver?
Kurtis: I've worked with the Waldorf Hotel in a few capacities since it relaunched as a creative compound just over a year ago. I love the energy and inspiration that emanates from the place, there's always so many cool, fun things going on – from art shows and concerts to dinners, film screenings and parties. The place seemed a natural fit to develop this project. I chose the name East Van Wine Academy because I thing it extends the fact that while, yes, there's an educational side to the evenings and some people see wine as an elitist thing, confidently throwing the words "East Van" in there really illustrates the accessibility of the events for everyone.
MMV: What kind of crowd usually comes out to your East Van Wine Academy events?
Kurtis: I love the crowd that show up to East Van Wine Academy events. The age range stretches from 20 to 50, with hipsters, bikers, foodies, blue collar workers, white collar professionals and everything else you could imagine. Very colourful and dynamic, very East Van!
==
The East Van Wine Academy's next upcoming event is "Around the World in 80 Minutes" on Tuesday January 10th at The Waldorf Hotel.  Tickets are $40 and are available online here.