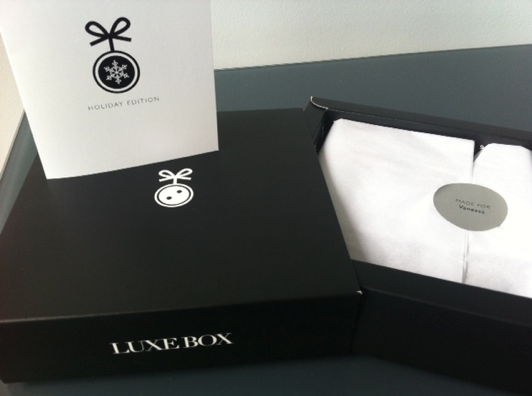 As you've read in
previous posts on Modern Mix Vancouver
, 
Luxe Box
 is a Canadian beauty subscription service which postal mails "deluxe" samples to you each month.  Each month's Luxe Box contains 4 – 5 miniature replicas of well-known brands, including Essie, Pur Minerals, Demalogica, Benefit, Stila, and more!  I got a belated Christmas package in the mail this week with the Holiday 2011 Edition of Luxe Box.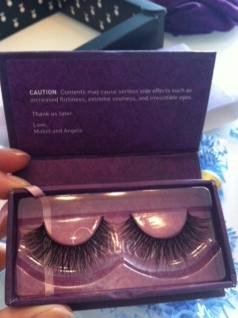 Velour Lashes in Doll Me Up – This was the best value item in the holiday edition of Luxe Box.  Retailing at $30-60 each, these authentic mink lashes are re-usable for up to 25 times. I liked the cheeky messaging: "CAUTION: contents may cause serious side effects such as increased flirtiness, extreme sexiness and irresistible eyes".  However, for Luxe Box recipients who are new to fake eyelashes (and the main benefit of subscribing to Luxe Box is to try new beauty products), eyelash glue was not included in the box.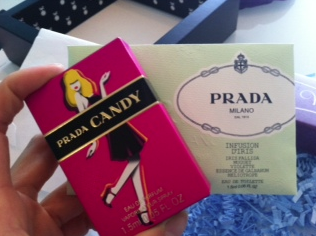 Prada Infusion D'Iris Eau de Toilette – I liked the pretty, pastel green envelope the scent came in.  Fresh and clean with a powder-y scent which unfortunately reminds me of baby wet wipes and/or baby shampoo.  The included description "captures the ambiance of luxurious Italian voyages" gave me no clue as to what the fragrance notes are.
Prada Candy Eau de Parfum – A vanilla scented honey, benzoin and caramel concoction which to me also had a baby powder scent.  But compared to the Prada Infusion D'Iris, the Candy Eau de Parfum had a sweeter, warmer, cozy scent.
Kerastase Elixir Ultime Versatile Beautifying Oil – This product smells so good, I have it in the ends of my hair at the moment and can't stop sniffing.  My tip would be to rub the oil on the palms of your hands first, then evenly distribute into the top layer of your hair where you want shine.
DDF Advanced Firming Cream – A cream which combats anti-aging concerns by hydrating, firming, tightening your skin.  Not a good product fit for myself as my skin isn't at the age where it needs anti-aging cream, so I'll be passing this on to a family member.
To order your own Luxe Box, click
here
. If you subscribe for a quarterly or annual Luxe Box subscription before January 31, 2012, you'll receive a bonus 3-month subscription to Flare Magazine.