Ensemble Restaurant (850 Thurlow Street)
Went to Ensemble (850 Thurlow Street) last night for dinner. Thought it was surprisingly busy for a weekday (Thursday) night – not packed, no wait times, but moderately filled.  Although the dining genre was listed as "French", Ensemble's menu items seem to fit in more as "Westcoast Contemporary" with dishes named after specific regions including Vancouver Island Mussels, Fraser Valley Duck Confit Leg and Arctic Char.  We were advised by our server that the portions are small to mid-sized and would be best to share, which we did.  Between two people, we ordered two appetizers, two mains, and two desserts.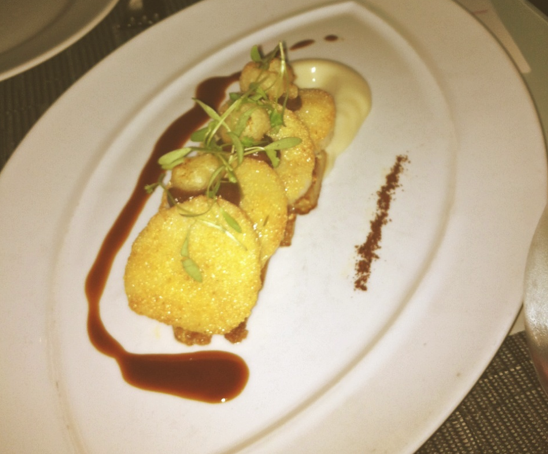 We started off with the Cornmeal Crusted Scallops.  I enjoyed the contrast between textures – the soft, moist scallops paired with a subtle, grainy, breaded crunch of cornmeal.  The small cauliflower accents were neutrally flavoured so it didn't take away from the seasoning of the scallops.  The 16-Month Aged Prosciutto Salad was very spring-like and refreshing, with crisp ingredients like strawberries and cucumber. The neutral taste of bocconcini is a good choice of cheese to pair with the salty prosciutto.
The Herb Risotto with Prawn was soupier than I expected it to be and not overly seasoned – a nice interlude between some of our more flavourful dishes.  The $6 "add prawn" meant you got three small prawns, each the size of your thumb, on top of your risotto.  The Potato Gnocchi was my favourite dish of the night.  The texture was light and fluffy (as good gnocchi should be), with the perfect amount of chewiness.  The rocket veggies (arugula?) were cooked in a way that reminded me of spinach.  An overall, well-balanced dish that was likely carefully crafted with care and attention.
For dessert, we had an Eggnog Sundae and some sort of Orange Yogurt dessert.  (Exact names aren't listed on the website, so I forget what they are called).  The Orange Yogurt was yummy in its separate components (candied citrus peel, gelato, some sort of marshmallow-y log, etc.) but combined together, the flavours didn't seem to come together.  I liked the flakes of gingerbread in the Eggnog Sundae, it was a creamy dessert served parfait style – reminded me of cookies and cream.