Indian Fusion Restaurant & Lounge (1926 West 4th Ave)
Indian Fusion (1926 West 4th Ave) opens a new Restaurant & Lounge location in Kitsilano and Modern Mix Vancouver was invited for a meal ordered from its new menu.  With 80 seats (several by the window), the second-floor view where we sat looking over West 4th, made it ideal for people-watching in the evening.  Evening shoppers heading back to their cars, Kits yuppies walking their dogs…With a full licensed bar, glowing neon "club" lights, Indian Fusion definitely has a "nighttime" lounge vibe to it, I felt like the tables should be moved aside after dinner for a dance floor!  (Actually, come to think of it, it felt a bit like being on the second floor of Republic Nightclub – how you can look down on the street from the enclosed balcony facing Granville).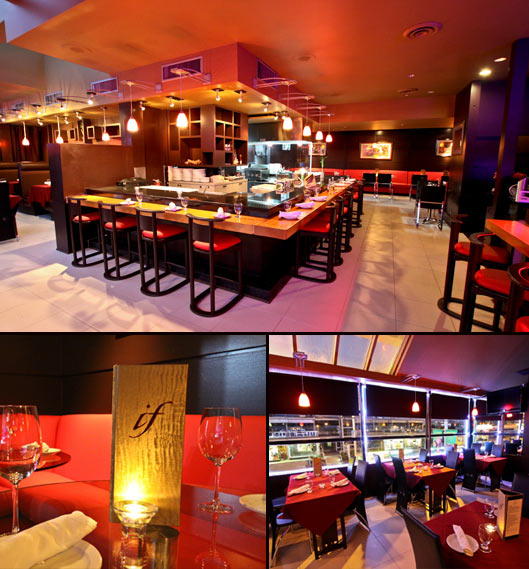 To get a good variety of appetizers to try, we started out with The Fusion ($11) which consisted of a trio of chilli chicken cut up in a moderately spicy pepper sauce, the fusion salad which had a tart but refreshing black salt vinaigrette dressing, as well as two lamb samosas (minced lamb and peas) served with green apple mint and tamarind date chutney dip.
For our main course, we ordered the Lamb Vindaloo ($14), Shitake Prawns ($17) and of course, everyone's favourite Indian dish, Butter Chicken ($14).  At first, the metal bowls which the food came served in seemed small – but be warned, Indian food is typically very rich, flavourful and creamy – a little goes a long way!  I was pleased that all three dishes we ordered were sauce-y, so we could dip our Garlic and Chive Naan ($4) in it, or spoon the sauce onto the Pulao Basmati Rice ($4) that we ordered.
The Butter Chicken, our favourite of the three dishes, was delicious, with tender cubes of chicken in a creamy fresh tomato and pureed ginger, garlic, fenugreek herb and cinnamon sauce.  There was a perfect balance of sweet and savoury flavours, and the creamy sauce absorbed nicely into the rice and naan.  The Shitake Prawns has succulent, peeled prawns in the sauce which was cooked in a ginger, garlic, tomato, onion and tumeric sauce.  The tumeric spice gave the dish a distinct South Asian / Middle Eastern taste.  The Lamb Vindaloo had generous portions of braised lamb cooked in a sauce of red chillies, vinegar, tomatoes, onions, and star anise.  We thought the star anise (licorice flavour) added a nice touch to the dish, however, it seemed like the vinegar was over-powering the other flavours and gave the dish an unbalanced sour flavour.
From only ordering the appetizer trio and three, creamy meat dishes, giant pieces of naan and a full helping of rice, we had more than enough food to doggy-bag home for lunch the next day.  I'm pretty sure Indian Fusion is one of those restaurants where no one leaves the slightly bit hungry. Lastly, after a full, hearty, meal, the restaurant's Kitsilano location is great for taking an evening stroll to work off that butter chicken you just ate!