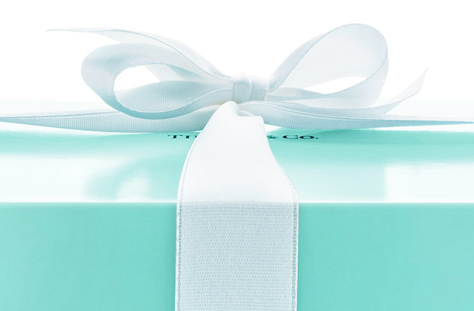 By Eudora Koh, Modern Mix Vancouver writer
What better way to start your morning off than to have breakfast at Tiffany's?  Modern Mix Vancouver was lucky enough to enjoy that experience this morning at the grand opening of Vancouver's 2nd Tiffany and Co. retail shop at Oakridge Centre. As one of the world's premier jewelers, Tiffany's fits rights into the upscale and trendy neighborhood of the Oakridge area. Hosted by Tiffany and Co. and Hawksworth Communications, the event was on par with what you would imagine a Tiffany and Co. event to be: Tiffany Blue, sophisticated, classy, not overwhelming shiny, and of course, full of exceptional customer service.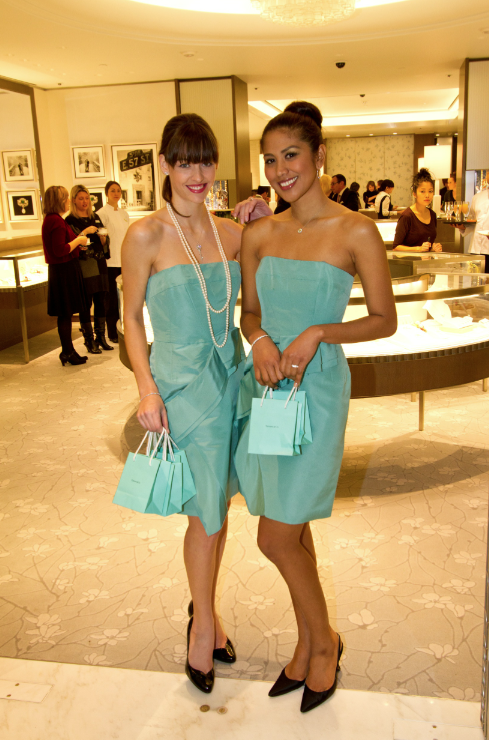 As you walked into the entrance of the new store, which replaced the old Montecristo Jewellers, you were greeted by two lovely Tiffany and Co. models wearing dresses in the signature color, Tiffany Blue. And because this was a "Breakfast at Tiffany's" event, while guests were mingling and walking around they were served coffee, mimosas, freshly squeezed juices, and bite-sized breakfast treats that included: smoked salmon on Pepperidge shortbread with cream cheese and dill, chicken sausage breakfast sandwiches, and quail egg topped with golden caviar. Lavish indeed.
As for the store itself, elements of the flagship Tiffany and Co. on Fifth Avenue were incorporated into its design, including the glass exterior at the entrance of the store and its stainless steel entry doors framed with the wheat leaf to symbolize nature, a reoccurring pattern throughout the New York City store. We browsed the store and looked at all the exquisite and classic pieces that Tiffany's is known for.
The collections that I personally adored the most were the affordable Tiffany charms and the lock and key pendants, and a new collection to which I was introduced today: the Elsa Peretti designer collection, and her most recent collection of  bottle shaped pedants. Their price points are slightly higher, but they are very popular sellers, being marked by Elsa Peretti's "fluid lines and sensual forms" in design.  Meanwhile, another favourite of mine was the signature "Return to Tiffany's" collection of lock and key pendants is part of Tiffany's iconic designs, all timeless pieces that any girl would love to receive for a gift (wink, wink, nudge, nudge!).
There are three new charms that have just been introduced for the holiday season:
the mittens charm, with Tiffany Blue enamel finish in sterling silver- $220
the reindeer charm in sterling silver with red enamel finish- $195
the stocking charm in sterling silver with Tiffany Blue enamel finish- $250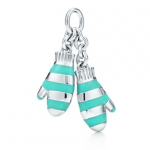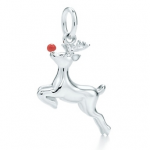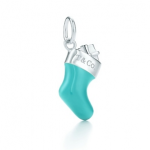 Besides being a preeminent diamond authority, Tiffany's is also well-recognized for their exceptional customer service. In fact, speaking with the Sales Manager and several Sales Associates in-store this morning, they explained that they go through numerous training sessions (including a trip to their headquarters in New Jersey, a trip to the Fifth Avenue store in New York, and some training here in Vancouver) to ensure they are experts in product knowledge as well as helping customers find what they want, and providing top notch service while doing so. Each department receives their specialized training; for example, earrings, diamonds, sterling silver, gold would each have separate training. Tiffany's philosophy is that they have exceptional jewellery in store, so they want exceptional sales associates to compliment the customer's experience.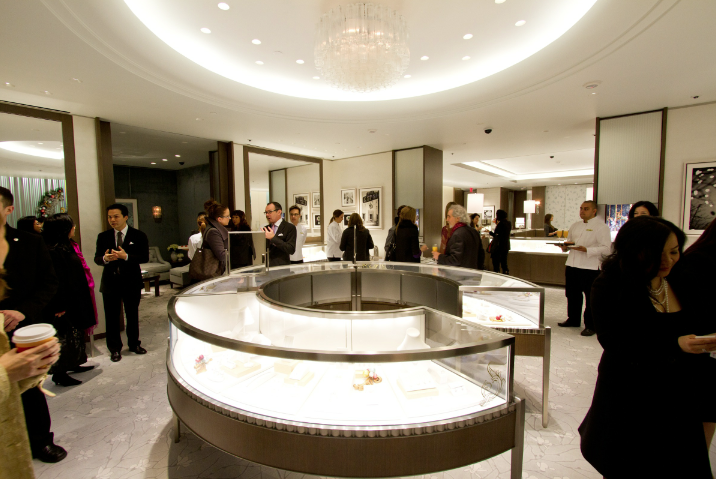 So, to go back to the initial question: What's a better way to start your morning off than to have breakfast at Tiffany and Co.'s?   To walk away from that breakfast at Tiffany's and be given a little signature Tiffany Blue bag with a beautiful necklace inside! I'm so excited about this lovely gift, which is my first official piece of Tiffany's jewellery. With so many other exquisite pieces that represent and embrace memories and timelessness, I will certainly be putting at least a couple of Tiffany and Co. items on my wish list this Christmas!