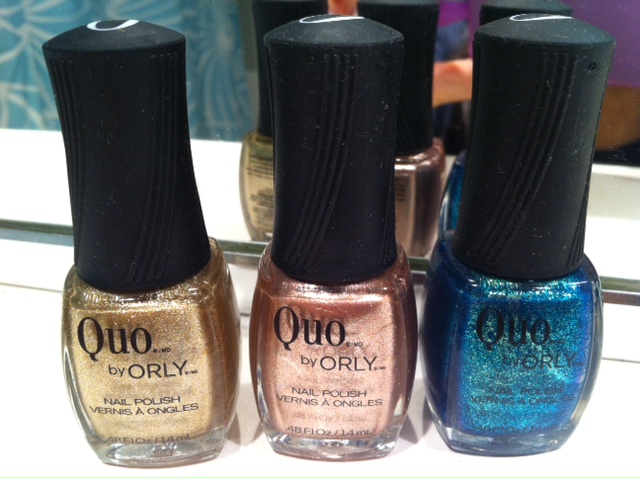 Quo Cosmetics, has been Shoppers Drug Mart's exclusive makeup brand for the past 10 years and a consistent leader in the Canadian beauty industry.  This winter season, Quo is debuts its exciting new nail lacquer collection in partnership with ORLY International, a leading innovator in the nail industry.   The new line makes its entrance with 25 core colours, five nail treatments and a five-colour fall collection.  In this joint venture, the Quo Cosmetics product development team collaborated with ORLY to create the new Quo colours and product names. The result is a wide-ranging palette of bold solids, lighter tones and glitter shades, led by reds, pinks and blues.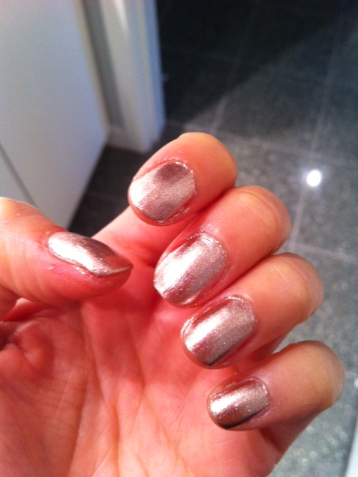 Just in time for the holiday season, I had the opportunity to try some of the more festive Quo by ORLY glitter shades – Filthy Rich (a warm gold glitter), True Love (a feminine pink glitter with a tinge of gold) and Turquoise Moonlight (a bold, mystic, turquoise).
The glitter in all three shades is a very fine, refined glitter, in a sophisticated "adult" way.  In other words, no one will mistake you for wearing your little sister's sparkly glitter glue.  Staying power of the Quo x ORLY nailpolish is about average, but the glitter colours seem to hide chips in your nail colour quite well.
I also like how the nailpolish brush handle has a rubber texture instead of plastic – it provides a firmer no-slip grip, and makes it easier to twist off a tight, well-sealed cap.  Apparently, this is known as the "Gripper Cap" and is a signature, award-winning feature of ORLY nailpolishes.
Although the Quo x ORLY collection is free of DBP, formaldehyde and toluene, there are additional measures you can take to help protect your nails throughout the winter season.  The Quo x ORLY also has a line of five nail treatments including Strong Bond, All-in-One, Polish Keeper, Cuti-Prep and Dry in a Sec Drops. 
Quo by ORLY is available exclusively at Shoppers Drug Mart and Pharmaprix stores across Canada and retails at $10.  Additional shades will be added throughout next year and seasonal collections will be introduced in the spring, summer, fall and holiday season.