Kersh Holiday Sample Sale (Dec. 3 to 4, 2011)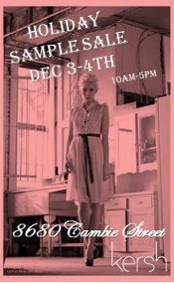 It's the season for cute holiday knits, cozy snuggle-up by the fire sweaters and festive party dresses! And as the Holiday Season is just around the corner, Canadian women's brand Kersh is holding its annual Winter Sample Sale on the weekend of December 3 and 4 from 10am to 5pm at 8680 Cambie Street.
Mark off your calendars and come down to grab your hands on the latest pieces from the Kersh Fall 2012 Collection at up to 80% off. So whether you're looking for gifts for friends and family or simply shopping for yourself, their discounted prices will give you something to be jolly about.
Expected Sample Sale Prices:
Jackets $20-30
Sweaters $15
Dresses $10
Tops/Blouses $10
Pants $10
Tanks/T-Shirts $5
*CASH ONLY*