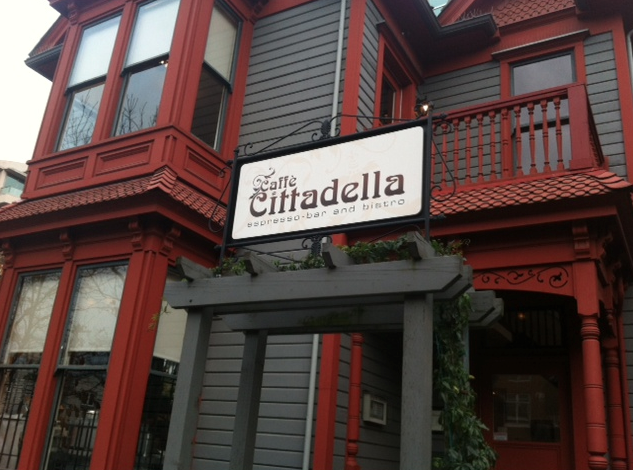 When it comes to coffeeshops in Vancouver, Caffè Cittadella ("espresso bar and bistro") is a rare neighbourhood gem that's off the beaten path. Not quite at Cambie Street, but not on Broadway either, Caffè Cittadella is nestled within a residential block, and operated within a heritage building on Ash and West 7th Avenue.
Although the cafe has been open for just over a year, this was my first time stepping foot within.  Beyond the vintage, wooden exterior (repainted a dark grey with red trim), my first impression of Caffè Cittadella was of its quaint homeliness.  I felt like I was stepping into a neighbour's home, rather than a coffee shop.  Right past the front door, is a flight of stairs leading up to a second floor.  When I came in, a barista doubling as a server was just coming down the stairs with some empty glasses.  In this homey setting, she could have been a cousin playing host to guests at a family gathering.  Directly to the left, you could see behind the order counter, where a barista was hustling and bustling to decorate drinks with latte art and heat up panini sandwiches.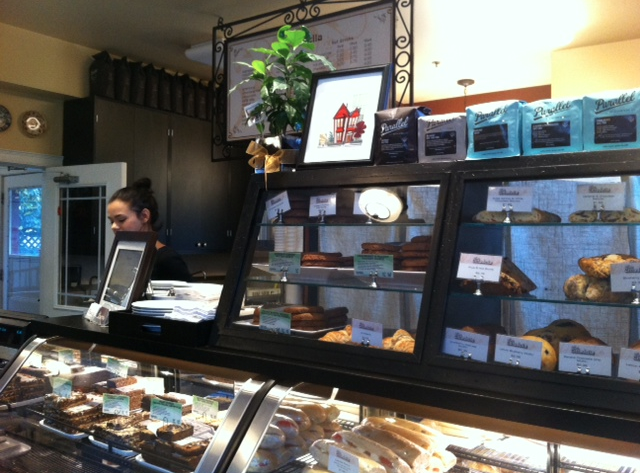 In terms of drink options, there were all the basics plus some more.  According to Foursquare, the Spanish Latte, a coffee drink made with sweet, condensed milk, is a must-try.  I settled for the more basic Chai Tea Latte and was pleasantly surprised that they topped my drink with latte art decor and a wrapped dark chocolate on the side.  There is also a fairly extensive selection of baked goods available at Caffè Cittadella, from soup, croissants, bagels and panini's to the  sweeter options like muffins, cookies, scones and biscotti.
There is customer seating on the both the first and second floor.  Small black tables with plain but sturdy black chairs are evenly spaced throughout the cafe.  Most of the patrons seem to be in no rush, many had laptops (Macbooks) and seemed to be studying working on school assignments with a partner. On the main floor, there is a door that leads to outdoor seating on a deck, facing North on West 7th Avenue.  Would have been nice to sit outside in such a pleasant neighbourhood, had the seating not been damp from the light rain earlier in the day.  Upstairs on the 2nd floor is a similar layout.  The door leads out to a small balcony, just enough for one table and a set of chairs.
Overall, I loved the environment Caffè Cittadella provides its patron.  A fantastic alternative from chain coffee shops, a vast selection of edibles to choose from, and a lovely neighbourhood gem.