Festive Collective Holiday Pop-Up Shop (Nov. 2 to 27, 2011)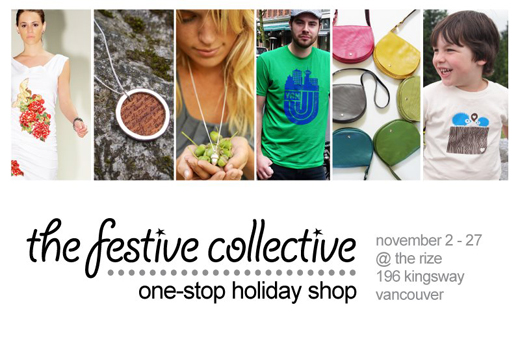 By Lydia Frey, Modern Mix Vancouver writer
Christmas is creeping up quickly and it's time to begin thinking of gift ideas. It can be difficult to think of unique ideas these days but luckily Vancouver is full of talented artists and designers who are here to help. The Festive Collective brings together some of our city's most talented designers all under one roof to make things a little easier for the rest of us.
With handmade clothing and accessories from Piknic Designs, gorgeous bags and hair accessories from Button & Bauble, as well as hand-stitched wallets and purses from Astrosatchel, you can find gifts that won't end up in the back of a closet.
The Festive Collective is located at The Rize, 196 Kingsway (just off Broadway and Main) and is open for business until November 27. Hours are 11-5pm Tuesday to Saturday and on Sundays 12-5pm.  For more information and a complete list of designers check out festivecollective.wordpress.com.