"I am equally passionate about making positive change as I am about designing beautiful clothes."—Nicole Bridger
It's no secret that being environmentally conscious has become so popular in Vancouver.  From being outdoors, to eating more locally produced fresh foods, to most recently, supporting and wearing eco fashion. So it's no surprise that many Vancouverites have heard of and embraced the designer and brand, Nicole Bridger, which was established in spring 2007. However, catching up with Nicole Bridger at her West 4th retail shop, I realized she is more than just about the sustainable clothes and being environmentally friendly. The brand and her designs are Nicole's vehicle, or catalyst in positively affecting change in the world.
Nicole Bridger is Beyond Just Fashion
In the grand scheme of things, Nicole Bridger is more about a lifestyle whereby you appreciate life and those around you, and try to do good where you are able. She considers all these things when she designs her collections, drawing on emotion and then utilizing color palettes that evoke those feelings.  Nicole has always been eco friendly—but she never saw the need to label herself as it was a choice of lifestyle for her, and not a trend or a fad. That's just how she and her friends thought things should be.
Nicole discovered her talent for designing and sculpting clothing after interning for couture designer Vivienne Westwood in London, England. It was then that she also realized she could do more than make clothes; she could induct some change in the world through the clothes that she made. And since Nicole had always wanted to do something positive in the world, it was a clear choice for her to pursue a career as a designer, in order to spark some real change in the world.
Instead of following trends and paying attention to fashion magazines, Nicole designs what she thinks is comfortable for women and what they will feel sexy and confident wearing. Because her pieces are stylishly simple and classic, and can still look good if worn five years later, it's no surprise that Nicole's clientele is very diverse, ranging from 25 to 65. The labels on all her clothing say "I AM LOVE" to remind her customers to love themselves as they are, and not try to fit into any stereotype or trend just because it surrounds them.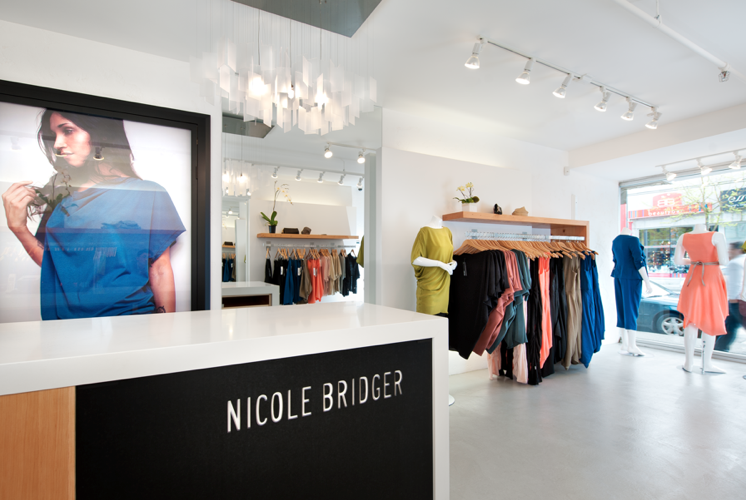 Nicole Bridger is Beyond Just Being Eco-Friendly

Though her brand is entirely eco-friendly, this aspect isn't in any of Nicole Bridger's marketing; to Nicole, it's more of an added bonus. It's how she thinks things should be done. It's about design first. People buy Nicole Bridger clothing because they love it, not necessarily because her clothing is eco friendly.
However, the desire to make positive change is prominent throughout all her marketing and branding, as it is the Nicole Bridger philosophy "to do what is right for the Earth, its People and Spirit". Nicole's reasoning behind this is simple. In work life, workers should be paid well, treated well and work in a positive environment so they are motivated and fulfilled in their work life. Her long term vision is to open factories in developing counties that are community based, and to help restore the life in that area. Nicole explained that we should all be collectively helping parts of the world whose economy isn't as strong as ours. She wants to be able to help create this positive change, by transforming Nicole Bridger into an ethical lifestyle brand which will hopefully include men's and babies' clothing.  Her vision is that people will be able to rely on the brand for designer lifestyle products, but at the same time know that it is made sustainably. Honestly, what's not to love?
With its boutique now open on West 4th since May 2011, Nicole Bridger has received an overwhelming response in Vancouver and the Lowermainland, both from the public and the press. But that shouldn't be surprising. With such a genuine and philanthropic way of running her business, I don't see who wouldn't want to meet the charismatic woman behind the brand Nicole Bridger, who is seriously making a positive change in our world one design at a time.
For more information about Nicole Bridger, and to see her designs, including her spring 2012 collection that was recently showcased during Eco Fashion Week, visit her website at http://www.nicolebridger.com.