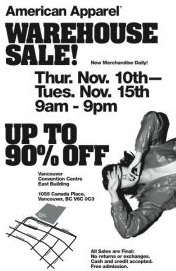 Best known for its unbranded basic clothing pieces in an assorted rainbow of colours, American Apparel is having a warehouse sale at the Vancouver Convention Centre from Thursday November 10th to the 15th between 9am to 9pm.
The last time I went to an American Apparel "rummage sale" (read about it here) was two years ago at the PNE.  All I remember is a long line up that went around the building and younger hipster kids who probably skipped school to attend the sale!  If it was anything like last time, the "normal" basics are grabbed really quickly and you're left with unpopular colours.  Might be worth a look though, let me know if you decide to go!
Update: So I went on Saturday afternoon to check out the American Apparel Warehouse Sale and I was pleasantly surprised by how massive yet organized the sale was.  All the items were arranged in wide rows, organized by style and colour. There were big signs overhead pointing down to and clearly labelling each of the sections.  Prices were decent – in general most things were about 40%-ish percent off.  If you're an American Apparel fan, I'm confident you won't leave with empty hands.