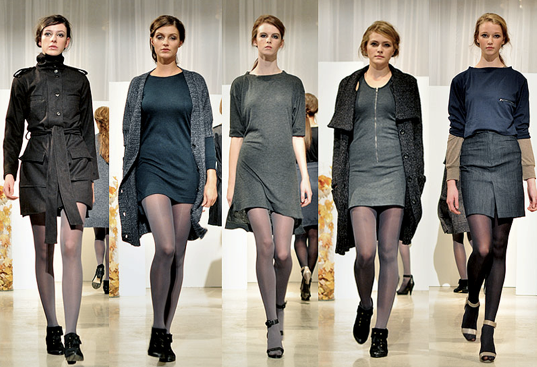 **Photo credit to LittleFashionisto**
On Thursday last week I had the opportunity to attended the (212) 2011/2012 Winter preview. The event was clearly well received with a packed room of local designers, fashion bloggers and supporters at the beautiful Montauk showroom in Gastown.
The inspiration behind (212) comes from owners Scott Walhovd and Anthony Castro. With a degree from Parsons School of deign and a love for the West Coast Anthony and Scott brought together their expertise in 1995 to create (212). With a focus on affordable pricing, this Manhattan inspired store offers Vancouverites a taste of the big city style without the big city prices.
The debut of their 2011/2012 winter collection included classic winter grays, rich navy blues, hints of beige and bright cobalt blue. This year, the focus was on staying true to clean cuts, solid colors and form fitting styles. Small details like asymmetrical cuts and exposed zippers were also included to add a contemporary feel to the classic designs. It was all about layering pieces and staying true the lifestyle of women in Vancouver. Dress shirts layered underneath fitted knit sweaters, turtlenecks and, button ups and skirts. What I loved most about this particular show was the easygoing nature of the clothes for that perfect laid back, sophisticated look.
In order to offer their customers accessible style in a timely manner, (212) chose to debut their winter collection in season rather than months before hand. For customers, this means the instant gratification of knowing their designs are literally hot off the runway.  You can expect prices for this collection to range from $85-$200+. For those of you interested to see more, don't let the area code fool you. (212) is located right in the heart of Gastown and for those rainy days, you can shop their online store 24/7.