Philosophy – "Recipes & Drinks" Collection (shampoo, showergel & bubble bath)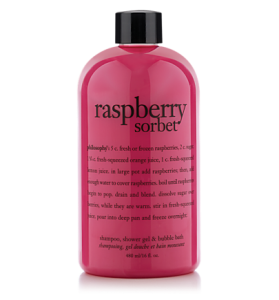 The Philosophy line that seems to be the most eye-catching is their "recipes and drinks" line which consists of brightly coloured shower gels, with a food or beverage recipe on the label.  Philosophy's bath and body products are made to "infuse your daily life with a burst of joy and happiness".  In order to simplify and de-clutter our lives, most of their products have multiple uses.  For example, Philosophy shower gels are formulated to double up (or should I say triple up?) as shampoo and bubble baths.  The Philosophy line of shampoo, shower gel & bubble bath are made with a gentle formula for a rich, moisturizing lather and leaves the skin and hair feeling ultra soft.
The "recipes and drinks" line consists of delicious, food and beverage inspired scents that are guaranteed to make your mouth water.  I tried "mimosa", which is a creamy orange-coloured shower-gel.  The flavour is accurately orange, and very fragrant, especially in the steam of the shower.  Likewise with raspberry sorbet – addictively fruity in the bottle.  Other flavours include fun girly drinks like "melon daiquiri" and "senorita margarita" and sweet, baked desserts like "pink frosted layer cake".  All of the flavours in the "recipes and drinks" line are so fun and bright and colourful, not only are they bath and body products, but also design and decor which look awesome on a tidy bathroom shelf.
The Philosophy Recipes & Drinks collection retails for $21 and is available at Sephora.  Starting in November 2011, Philosophy will be available at select Shopper's Drug Mart and The Bay.