Just in time for the fall weather, on a Friday evening in October, the 2nd Floor of The Bay was transformed into a classy and elegant reception area and fashion runway for Flare Magazine and The Bay's 2011 Fall Trends Report.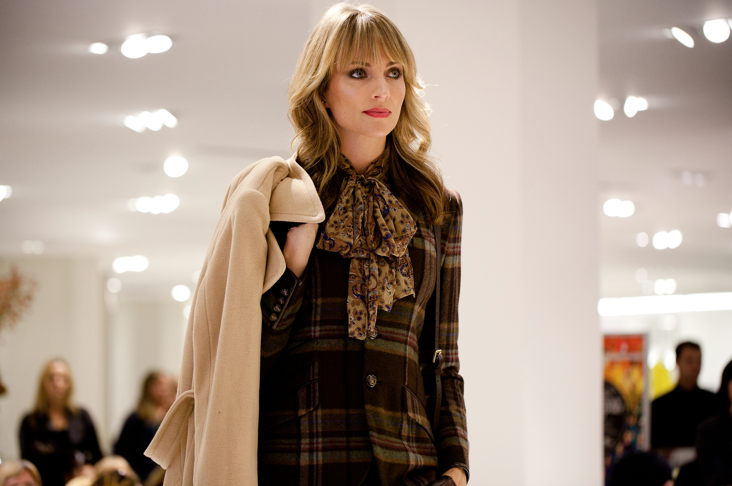 After some mingling over white wine and a wide variety of cute and scrumptious catered finger foods, guests were seated.  Hosted Lisa Tant, Editor-in-Chief of Flare Canada, and Suzanne Timmins, Fashion Director at The Bay, the fashion show covered upcoming must-haves for fall 2011.  The trends were categorized into 6 looks: 60's Style, 70's Style, Pattern Play, Vivid Brights, Man Up!, and Boho Folk. What made the show even more enjoyable was that the 6 themes were taken from the runway and adapted to retail, so that all of the looks could be purchased directly at The Bay.  I was particularly drawn to the 60's, Man Up!, and Boho Folk trends showcased, so  I've decided to focus on my top 3 trends from runway to retail.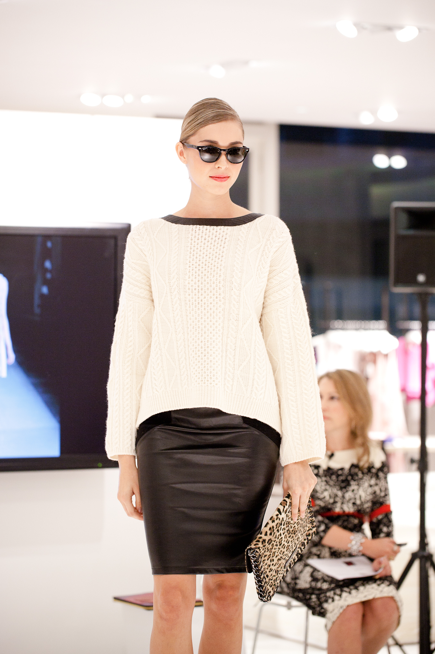 The 60's:
There was a sense of mod couture in all the clothes in this segment, and by that I mean very reminiscent of Audrey Hepburn or Twiggy's style, or a more modern and update from what you would see on the AMC television series, Mad Men. Since the featured outfits were made practical for retail, they were not costume-looking and would be totally appropriate for the workplace, or shopping around town.
Some 60's inspired retail looks: Matching tweed cropped jackets and skirts, the peplum dress, strong shaped jackets worn over dresses, sunglasses, black long-sleeved dresses, leather skirts, big hats, and lots of fur.
Man Up!:
There's something so cool and suave about slicked back hair in a bun, red lips, black aviators. Throw on a black dress shirt, black suit, and top it off with black pumps and the look intensifies. Got the image? Good. That was basically the concept of the Man Up segment, along with the other type of menswear that is so often seen on the streets, which encompasses masculine-styled clothing that are feminine in color and tone. What I loved about these looks was that they still held a sense of professionalism, with a tone that screamed "Girls kick ass!"
Some Man Up! inspired retail looks: Boyfriend blazer, the oxford shirt, ties, suspenders, loose ribbon neck ties, fedora hats, trousers.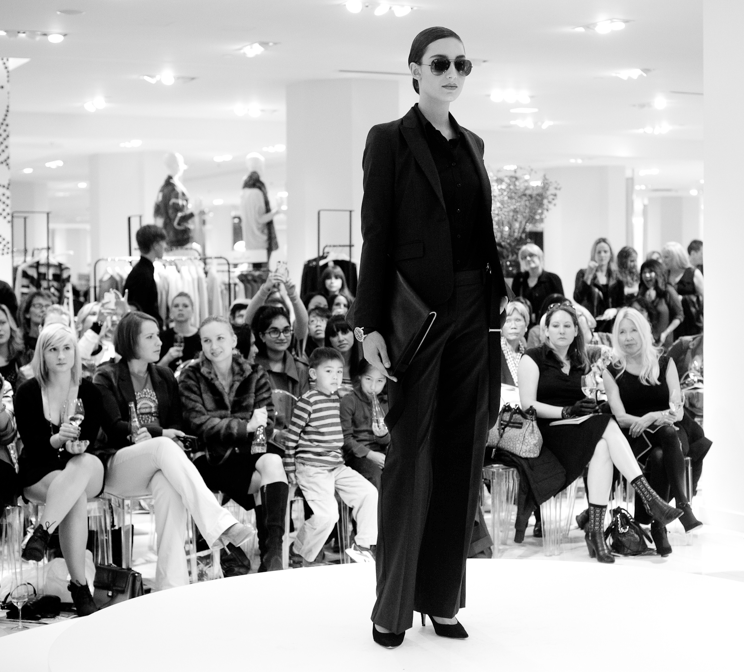 Boho Folk:
The Boho Folk segment featured knits, over-sized sweaters, different types of fabrics, long socks, and military-styled boots—all of which were very practical, maybe minus the gold sequined skirt, which I know I cannot pull off… Layering is very trendy for the Boho Folk look, especially with camisoles, blouses, sweaters, cardigans and jackets. This look is very appropriate for nippy fall weather because you can bundle up in all of those comfy layers, and still feel stylish.
Some Boho Folk inspired retail looks: Fur vests, floral print, chunky sweaters, skirts or shorts worn with thigh-high boots, leggings, stockings, draped sweaters, booties, high socks, toques, lots of long and embellished accessories.
I was definitely inspired by the Fall Trends Report, and especially loved it because of its runway to retail concept, allowing me to easily include many of the items in the Trends Report to my own wardrobe. Thanks to Flare Magazine and The Bay for hosting such an exquisite and successful event!
In conclusion, here are some of  Suzanne and Lisa's personal must-have's for Fall 2011:
Anything colored/patterned or that pops!
Black or brown leather skirt
Cape
Shift dress
Lace dress
Geopatterns