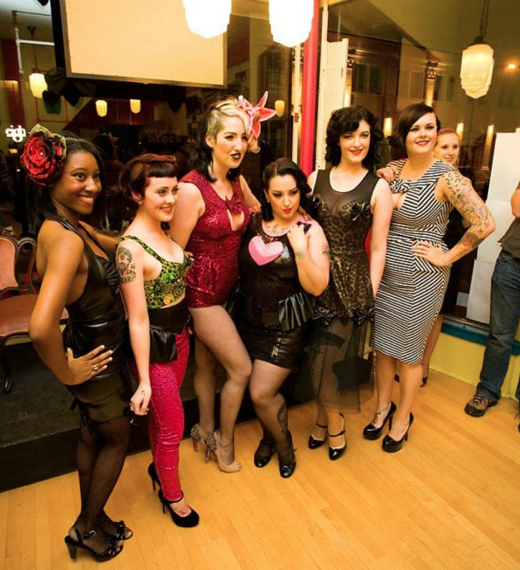 By Lydia Frey, MMV Guest Writer
What I love about Main Street is how just when you think you've seen it all, you turn a corner and discover another hidden gem.  Whether it's a funky boutique, restaurant or coffee shop, you never know what you'll encounter.  That why, when I made my way to Scout Boutique's Sweet and Spicy Fashion Show last week, I wasn't sure what to expect.
With fashions from Rebel Rouser, Pinup Couture, Parr, Betty Page, Style Me Vintage and local designer Misty Greer's line, TrunkShow, I encountered the edgier and sexier side to fashion. Curve defining shapes, lipstick reds and midnight blacks took over the room and made me seriously consider purchasing new red heels. While I doubt I could get away with some of the necklines at work, the outfits were sexy without being trashy. I kept expecting burlesque dancers to take over the stage and I wouldn't have been disappointed if that had happened.
During the break, I took a look at what was on the racks and felt my self-control slipping away. Gorgeous fitted autumn jackets beckoned but I stayed strong.  For women looking for style with a sassy edge, this is the place to go. Scout Boutique offers personal shopping and private shopping sessions and the friendly staff makes your shopping occasion memorable – not to mention easy. This was Scout Boutique's third annual fashion show and after this year's showcase, I will definitely be there next year!
**photos used with permission from the Scout Boutique Facebook Page