The Oakwood Canadian Bistro (2741 West 4th Avenue)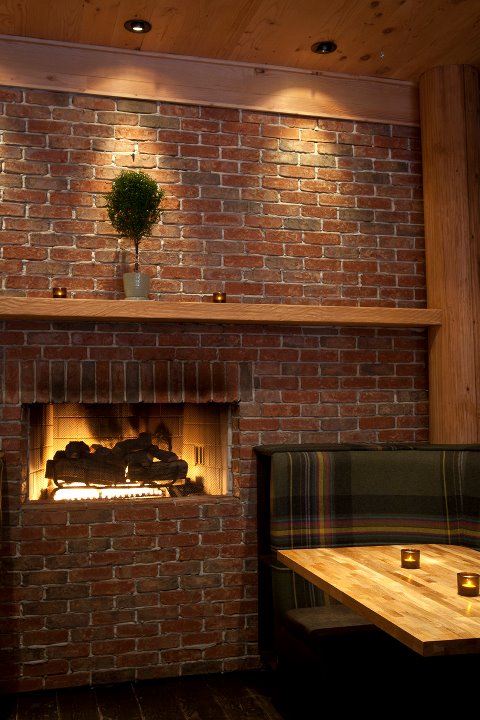 By Kenneth Law, Modern Mix Vancouver writer
Located in a busy corner of Kitsilano, the Oakwood is a fairly new neighborhood bistro and bar that is likely to be well patronized by locals, but there are enough attractions to draw people in from the rest of the city for brunch, dinner or a late night drink. Walk into the restaurant and you will be warmly greeted by the earthtone décor and fireplace, where reclaimed wood materials are abundantly used in the interior design of the space, leading to a cozy, ski-lodge like feel. Various seating accommodations are available in the small but comfortable venue, including booths, bar stools and a centerpiece wooden communal table that is perfect for mingling.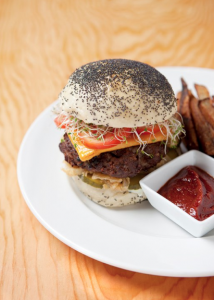 Head chef Mike Robbins and his staff have created a one page, double sided menu that is remarkably short and succinct, in line with the clean feel – and pricing – of the place. Items are categorized by cost, with $5, $10, $15 and $20 options, and are made with locally sourced produce to craft simple, standard Canadian pub fare, such as burgers and salads but with a bit of an edge. Locally crafted beer and a finely chosen wine list populate the beverage side of the menu.
At the opening celebration party on October 20th, I had a chance to sample some of the items that are supposed to be on the menu – except they were not.  The waitress gave me a strange look when I asked why the items served aren't on the regular menu.  Eventually, someone explained to me that the Oakwood's menus are frequently rotating to accommodate the seasonal availability and sustainability of the items. So what was on display included their burgers, tuna tataki, crab meat tortellini and a butternut squash soup.  Their burgers had a nice touch of using alfafa to soak up the flavor and the taste of the tuna tataki was perfectly balanced between its spice and sweetness.  However, I found some of the selections to be a little too strongly flavored, occasionally overpowering the taste of the natural ingredients.
Overall speaking, the Oakwood Canadian Bistro is a very comfortable, clean and cozy place to spend inside for the winter months and outside on the patio in the summer; a fairly priced and enjoyable affair to have a meal and a drink.