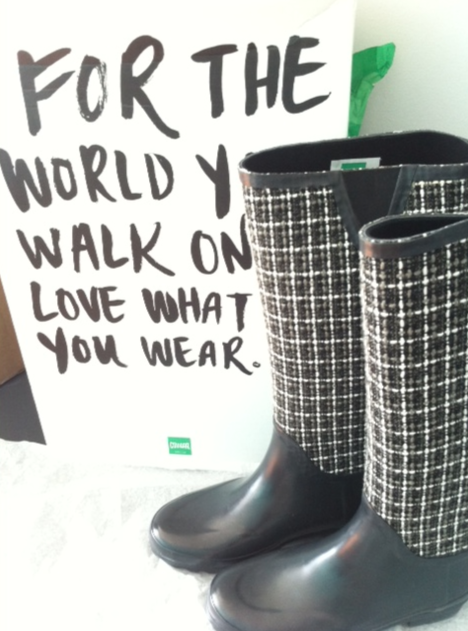 "For the world you walk on, love what you wear" – those were the first beautiful words I read when opened up my parcel from Canadian company, Cougar Boots.  Written in a scrawled, painted font on the cardboard shoebox (which had a convertible green handle to turn it into a shopping bag), I thought it was a great slogan for ashoe company.  The pair of boots I got were the "Java" rubber boots – I thought they would be most practical for the rainy Vancouver weather.  The actual shoe part of the boot (including the one inch heel) and some of the trimming is made from rubber, while the stem of the boot had a pattern comparable to checkers in grey, black and white.  This is (currently) the only colour and pattern the Java style comes in.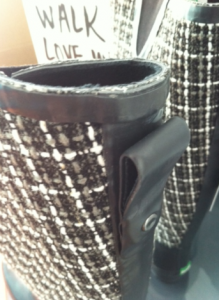 There's even a little rubber tab at the top-back of the boot, so you can hang them from a hook.  The inside of the boot is lined with a very fine micro-fleece, which is soft, comfortable and will help keep me warm on rainy days.
In terms of fashion, the rubber is a very heavy-duty, sturdy, solid material but the textile pattern gives it a more feminine look so you know you're not just wearing your dad's work-boots!  However, it seems a bit impractical that a fabric pattern would be paired with such a heavy-duty rubber sole.  If you wanted to splash in puddles, the water would run right off the rubber part, but be absorbed into the fabric.  That being said, because of the grey/black/white textile pattern, the colour combination would hide any sort of rainy wet stains.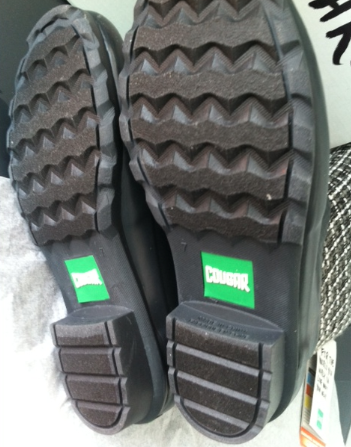 For this particular style of boot, the upper part of the boot fans out, so you can tuck in any sort of pants, instead of just skinny jeans), without the concern of whether they'll fit in the boot or not.  If you have particularly skinny legs, the top of the boot does stick out a bit, but that's just the nature of rubber boots in general, not just this pair.  This particular style of boot fits larger, I got my usual size 7, but I feel like I could have gone down another 1/2 size.
I never thought I'd say this, but I'm excited for the next rainy day in Vancouver so I can finally wear my new boots – for real!