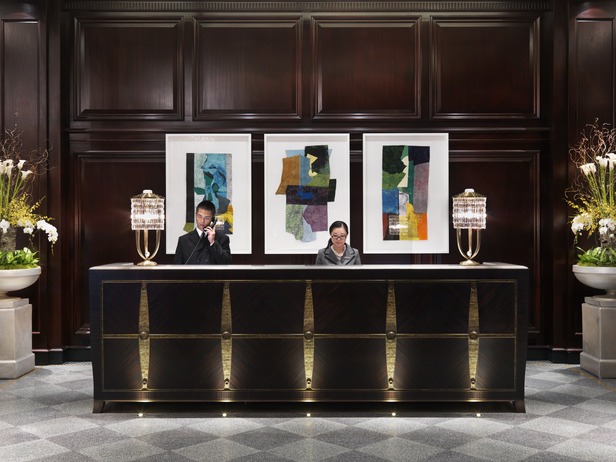 By Joanna Lee, Modern Mix Vancouver writer
The Rosewood Hotel Georgia is now home to a stunning collection of fine Canadian art curated by Farmboy Fine Arts, an international art consultancy group based in Vancouver, which focuses on collaborative art. The collection comprises of over 200 pieces of Canadian art, with the only exception being two pieces by British artist, Patrick Hughes, which are located in the hotel's lobby and in the entrance to the Private Residences at Hotel Georgia. The art collection was formally introduced to the public by Farm Boy Fine Arts' President and Director, Todd Towers, on October 5th. Attendees at the event packed the hotel's Bowden Room for a good solid two hours of mingling, networking and celebration of fine art. Guests were given a tour of part of the collection, which is spread out within the hotel and located in both private and public spaces.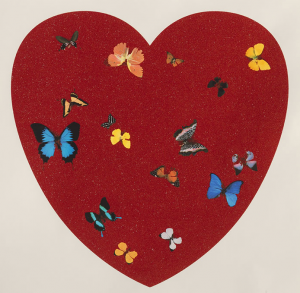 The unique collection features a broad spectrum of Canadian artists including Douglas Coupland, Takao Tanabe, the Group of Seven's Jack Shadbolt, Sonny Assu, and Guido Molinari. Most impressive is a limited edition print by Damien Hirst, entitled Big Love with Diamond Dust (see left), and a custom installation of vibrant shapes and colours by the world-renowned, Rodney Graham, entitled Anamorphic Psychomania, both located within Hawksworth Restaurant. Hirst's dramatic piece is one of 50 prints signed by the artist, while Graham's signature piece is the third in a series inspired by a british zombie movie, Psychomania, from 1970.
For self-guided tours, maps of artworks in the lobby, reception, 1927 lobby lounge, and pre-function spaces on the second floor are available from the Concierge desk.