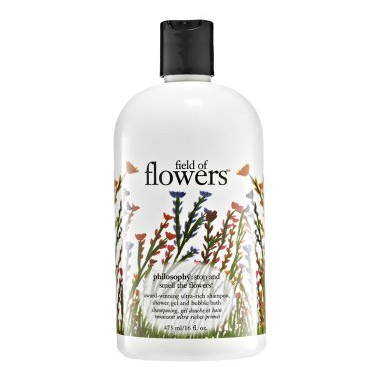 In general, I'm not much of a floral-scent type person.  But wow, with Philosphy's "Field of Flowers" (3-in-1 shampoo, shower gel & bubble bath), I may have to convert from fruity into florals.  Field of flowers smells like a fresh bouquet of flowers, minus any sort of pollen or allergies.  The scent is pure and clean without being overwhelming.  It's a very pretty scent, but not overbearing.
A flower is the embodiment of everything that is right and beautiful in this world. A flower represents life and is the ultimate treat for our senses. Its strong-yet-fragile build thrives in sunshine and love, but will quickly wilt if kept in darkness and mistreated. You will find a flower growing in the richest or the poorest of soils and it will always look happy to be there. A flower is a smile from God and a field of flowers is the ultimate soul-stirring experience.
Philosophy's Field of Flowers 3-in-1 shampoo, shower gel & bubble bath retails at $21 for 480ml.  The accompanying perfumed body lotion retails at $31 for 480ml.  The collection is available now at Sephora and will be at select Bay department stores by November 2011.