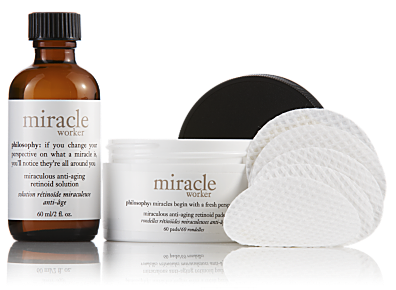 My skincare concerns aren't about anti-aging yet so when I received Philosophy Miracle Worker to test and review, I passed it on to my mom who was able to give me a relevant opinion on the product.  With miracle worker, the product set comes in two parts – a 60ml vial of liquid "elixir" and a jar of 60 circular anti-aging retinoid pads.  You pour the solution into the jar of pads and use one each day to wipe over your face.  To begin with, my mom already has amazing skin (Asian genes) so she didn't really have any major or unnatural skincare concerns.  She was eager but skeptical of the "miracle" at first, but diligently used miracle worker for the recommended minimum seven days to see results.  Within a week, she felt like her skin was more radiant – like brighter and more pure. The radiance could be a result of a smoothing out of fine lines that you can't usually see from far away.  Within a month, she noticed continual results that could only be attributed to the new Miracle Worker product in her skincare routine.  Her only complaint was that the cotton pads were a bit rough and scratchy on the skin.
My mom is currently four weeks into Miracle Worker.  I'll post an update here when she's done the full 60-day routine.
Miracle Worker retails for $98 and is available exclusively at Sephora.