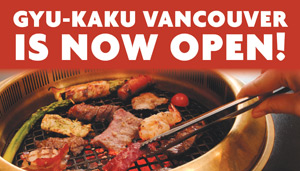 Gyu-Kaku is a chain of Japanese BBQ restaurants. The first Gyu-Kaku in Canada opened in September in Downtown Vancouver at 888 Nelson Street. First of all, a warning: vegetarians beware.  Although there are tofu and vegetable dishes available on the menu, there is a very noticeable scent of meat that permeates through the entire restaurant.   Upon opening the door to enter the restaurant, you can literally feel a "whoosh" of warm meaty air rushing into your face, absorbing into your clothes…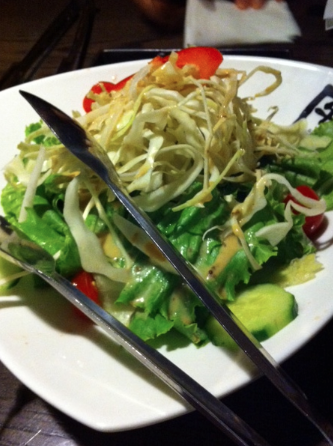 We went in a group of 7 for a birthday party.  Unfortunately, the restaurant doesn't take reservations so we ended up waiting nearly an hour and a half (until 9:30pm) for booth seating. Despite the long wait, I still think this is an awesome hot-spot for group dining.  You can order a la carte – individual portions of Japanese appetizers, salads and soups, noodles and rice dishes, or dishes of raw meat to grill on the communal BBQ (the epitome of Japanese BBQ – that's what people come here for!).  Alternatively, for the full Japanese BBQ and communal dining experience, you can order from the set course menu.
For six people, we ordered the Shogun Course menu ($150) which included a variety of appetizers, side dishes and BBQ dishes for you to grill yourself in the circular BBQ in the center of the table. Appetizers included the edamame, Gyu-KaKu salad (see photo left), spicy tofu chigae soup.  Salad was very refreshing, and a good base to the meaty dishes to come.  The shogun menu also included two bowls of "sukiyaki" (BBQ beef flavour) bibimbap, which was my favourite.  Basically, "bibimbap" consists of rice and other ingredients (ie. raw egg and/or beef and/or veggies)  that are served in a very hot stone bowl, then mashed together so it sizzles against the hot stone bowl.  The rice is then slightly crispy, the egg cooks itself, and the rest of the ingredients remain well-cooked and hot.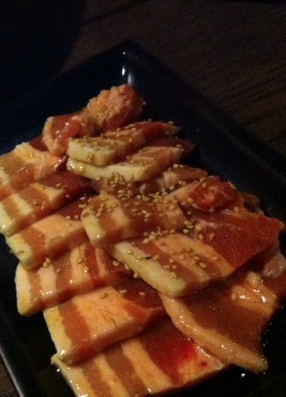 The meat dishes included various cuts of beef, pork belly (see photo right), and chicken marinated in basil (sort of like pesto).  The meat all tasted generic to me, but it was tender and well-seasoned.  The chicken was distinguishable, and we all agreed the texture was very tender.  The basil marinade reminds me of pesto.
Because the Shogun Course menu wasn't enough, we also ordered the asparagus wrapped in bacon ($5.95) – I thought it was prosciutto and almost ate it raw!  We also ordered the fried chicken karaage ($4.50) which was the size and texture of KFC's popcorn chicken.
Overall, I thought this was a great group dining experience.  But for such a casual, chain restaurant , I thought it was really expensive.  Next time I come back, I would probably order from the a la cart menu and get a udon or bibimbap bowl instead.  Also would like to try their desserts – marshmallow s'mores for $3.95 which can be toasted over the BBQ grill.