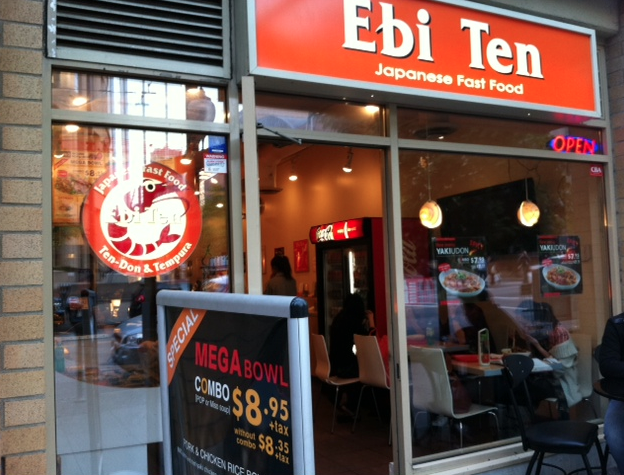 I've checked in on FourSquare so many times, I thought it's about time I write a few words on Ebi-Ten on Robson Street.   I work around here in my dayjob, so this is my lunchtime, Japanese fast-food default when I don't bring my own lunch.
During the lunch time rush, the lineup to the counter often begins at the door of this small fast-food Japanese hot spot.  As you're lining up and moving forward towards the counter, lined up against the wall on your left, is a series of pre-made, pre-packaged meal items, often with popular sushi picks like the BC or California Roll; just grab pay and go. Otherwise, if you're not in a huge rush, you can request for them to make your rolls fresh.
Even closer to the counter is a pre-made section with hot foods, it's a different selection every time I go there. Yakisoba, gyozas, chicken karaage (deep fried Japanese-style chicken nuggets), salads, are all pre-packaged food items I've seen in this section – all around $3 or less. My standard order here is the yam tempura roll. It's cool that you can see them making it, but kind of scary seeing how much oil goes into frying your tempura.  Other notable dishes here worth trying is the tempura udon ($6.98), which is a bowl of udon noodles in soup, topped with freshly battered and fried tempura, or the Yakiniku bowl ($6.98) which consists of a saucy beef on rice with salad and mayo.
Don't order any sort of fish sushi here – heard it's hit or miss. When it misses, it's not very fresh, and that's not a risk you want to take with fish in sushi.