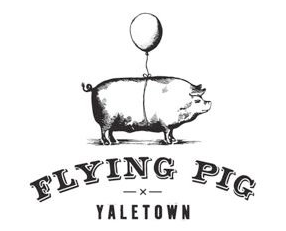 Modern Mix Vancouver Weekend Brunch Series – If you're a foodie on a budget, going for brunch on the weekend is a great way to check out a restaurant without breaking the bank.
The Flying Pig (1168 Hamilton Street) in Yaletown opened in the summer, but their weekend brunch menu just started last week in September.  It's a perfect little brunch restaurant to go to when you want a more intimate environment, and don't feel like going to a chain-restaurant (like the nearby Milestones, Cactus Club or Earls) or anything too barlike.  It's also nice to stay in Yaletown for weekend brunch, because the streets outside the downtown Granville restaurants are generally littered with crap in the aftermath of a Friday or Saturday club night out.
I had the Wild Mushroom, Asparagus Chevre Frittata ($10) which was served with organic greens.  The presentation of the food was good – on a wooden butcher's board with a handle.  The salad was really fresh, with just the right amount of dressing.  I thought I tasted some bits of salt in the mix, not sure if it was supposed to be there, but I liked it.  As for the omelette, there was no asparagus in my frittata!  I also thought the mushrooms were coarsely cut and were not as thoroughly cooked as I would like – still slightly raw, but perhaps that is just a matter of personal preference. I didn't finish the omelette.  Tomatoes were cut too big, and the entire omelette got watery, the more I picked at it.
My friend got the French Toast With Maple Blueberry Compote ($9) which was served on thick cut brioche with butter and a generous helping of syrup-y blueberries and whipped cream. She liked how the bread was toasted crunchy on the outside but soft on the inside. Meanwhile, my other friend got what could be considered the plainest breakfast options – a side of eggs ($5) and hashbrowns ($5). The eggs were plain, but the hashbrowns were fancier – soft, shredded potatoes with a flavourful mixture of dried herbs and cooked onion.  For drinks, the Organic Fruit Smoothie ($4), made with seasonal fruits (it was mixed berries today), is a healthy choice.  The mimosa ($5) I ordered was nothing special – just a flute of champagne topped with a dash of orange juice.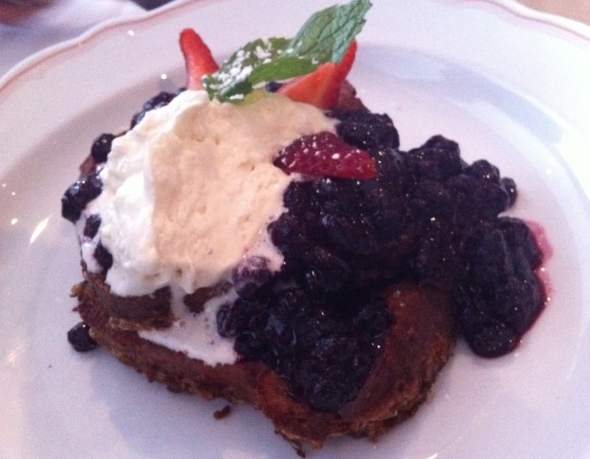 Facebook: http://facebook.com/theflyingpigvan
Twitter: @flyingpigvan