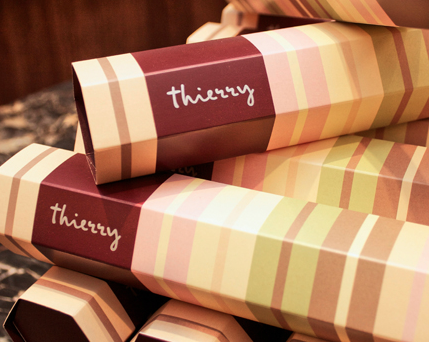 By Joanna Lee, Modern Mix Vancouver writer
Award-winning pastry chef Thierry Busset opened Thierry Patisserie in early August in partnership with the Top Table Group (CinCin, West, Araxi and Blue Water Cafe). Busset led the pastry programs at CinCin and West with his talent and creativity such that Vancouver Magazine said he is "widely regarded as one of North America's finest pastry chefs." Located in Vancouver's downtown core on Alberni Street, Thierry can be found under a large awning with an outdoor patio that evokes the storefront patisseries in France.
Thierry Patisserie is also a chocolaterie and cafe, offering a variety of hand-crafted chocolates made from artisanal dairy products, and an assortment of French pastries, macarons, croissants and madeleines. Everything is made daily using fresh seasonal fruits and premium chocolate ingredients.
The shop at Thierry is a many splendored thing. An extensive range of exquisitely packaged products is on display, handcrafted daily and using only premium ingredients: the freshest fruits, artisanal dairy products and, bien sûr, the world's finest chocolate. Splendid, too, are a variety of signature macarons and rich ice creams and sorbets, each ready to take home or present as a gift.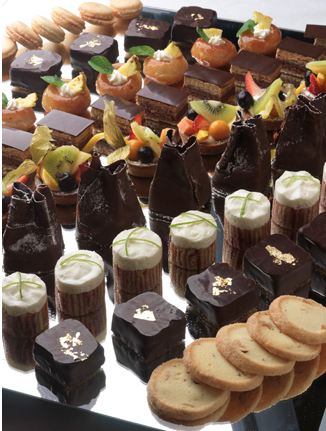 In addition to Thierry's sweet delectables, one can also find a grilled prosciutto, salami or salmon sandwich on house-baked bread, as well as a super green quiche and daily gazpacho, which are designed exclusively by Chef Todd Howard of CinCin Ristorante. Thierry is a fully licensed cafe, offering spiked coffees and teas, aperitifs, spirits, and beers. Wines are also available and have been chosen to pair with Thierry's chocolates.
Thierry Patisserie is at 1059 Alberni Street and is open 7 days a week until midnight.