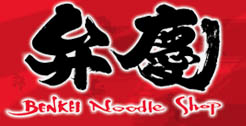 With a craving for ramen (Japanese-style noodles in a soupy broth), I went to Benkei Ramen (545 West Broadway x Cambie) for dinner.  I had walked by the small noodle shop several times because it's close to the 99 Bee-line bus stop and right beside Mcdonalds.  The sign to the restaurant is distinctly Asian, with a red logo and Japanese characters, the interior had bamboo dividers and small wooden tables.
The main ramen menu is quite limited, only five dishes:
Shoyu ($6.95) – This traditional Tokyo Ramen is a standard in ramen stores. Served with bamboo-shoots, spinach and nori, it's a very healthy Japanese style-Chinese noodle.
Shio ($7.50) – Boiling the pork and sapping out the rich taste, this Fukuoka-born ramen contains collagen and calcium – a source for beatiful skin and strong bones. This is a recommendation for female ramen lovers.
Miso ($7.80) – The Hokkaido ramen is made with rich chicken and pork soup. Cooked with our special miso sauce, it has a tasty aroma and beautiful rich flavour.
Vegetable Shoyu ($7.30) – A flavourful clear chicken and seafood broth simmered to perfection, with a generous helping of bean sprouts, spinach, bamboo shoots, corn, nori and green onion.
Akaoni ($8.95) – Mixed with various kinds of spices, this spicy-miso is a favorite for many. The addition of garlic oil creates a much richer flavor. The burning sensation followed by the soothing delicious taste is going to make you come back for more.
Benkei prides itself on their "no MSG" policy, by cooking their soups from scratch and using natural ingredients.  They filter the soup several times to take out the fat, but leave in the rich taste of chicken or pork.  I ordered the Akaoni, which was the only dish labeled as "spicy" on the whole menu.  It wasn't too spicy, although it made me thirsty afterwards.  I like the texture of the minced pork with the soup in the noodles; and because the ground pork was pan-fried beforehand, it's more flavourful than just boiling the ground meat.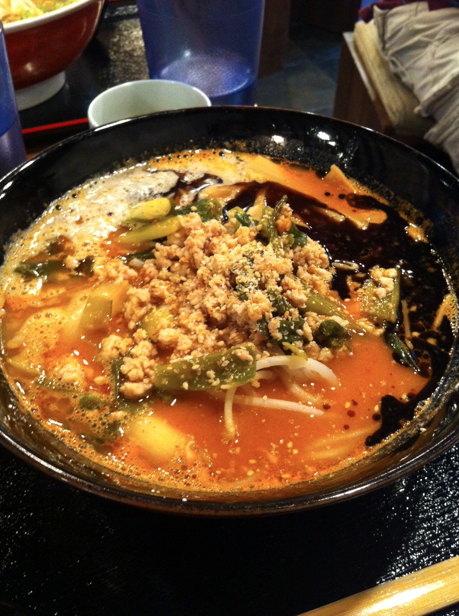 Although there's already quite a lot of ingredients in each bowl, you have the option to further customize your meals with toppings including green onion, spinach, bamboo shoots, corn, boiled egg, etc. ($0.50/each).  We also ordered three side dishes – Vegetable Gyozas (5 pieces for $3.25) and the Chashu Onigiri (2 pieces for $3.50).  The gyozas had a very thin skin, which apparently is a trait for good-quality dumplings.  The Chashu Onigiri are rice balls with chopped up pieces of pork in it.  Tasty, but carb-heavy – I probably would have enjoyed them more if I had eaten them on an empty stomach rather than after a large bowl of ramen noodles.