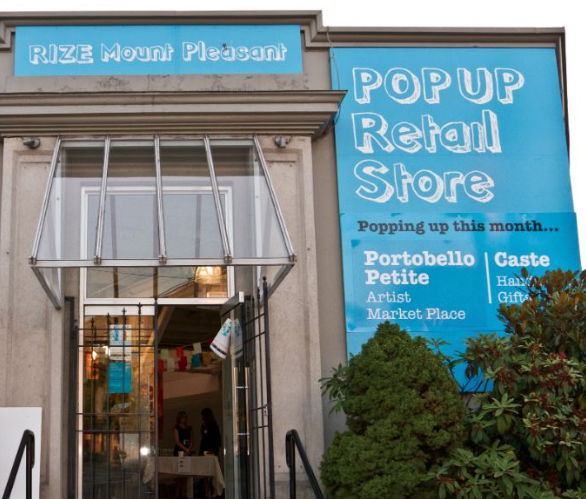 By Miranda Sam
Last Thursday, August 11th marked the 5 year anniversary of local fashion and arts market, Portobello West.
Over the years, the market has evolved to bigger venues, attracted more vendors and attendees, and has become a non-profit to better serve its mandate of supporting artists in the community. Founder Carlie Smith says, "Our biggest goal now is to really be there for artists and designers and the community. So we really want everyone to get more involved with the market."
The market has changed venues twice to accommodate its growth, from showing artisan wares at the Plaza of Nations, to a much larger venue at the Rocky Mountaineer Train Station, and now at the Creekside Community Centre. As Portobello West grew, an eastern division was created a few years ago for the Toronto market.
Guests were treated to delicious desserts from a soon to launch candy and baked goods company, Beta 5. There was also a pinata full of Portobello West memberships, gift bags, and caramels for the fashionably dressed crowd to take a shot at. And on display were fashion pieces from different local designers, such as Blushing, Irit Sorkin, Two of Hearts, Kairos, Dahlia Drive, Nicole Bridger, and Dotted Loop.
Near the end of the evening, Carlie Smith who donned an Elroy Apparel dress, shared her thoughts about the past 5 years.
"And that's what the intention was, to help tell the community and the people what shopping local really means and to get to know the artisans and designers behind the products that they're purchasing," says Carlie.  "So really I just wanted to thank all of you for helping us get to this point and keep it going till 5 years. I hope that long past me when no one knows who I am the market is still running. My goal was to have it be part of Vancouver."
A smaller version of the market, Portobello Petite, which hosts a sample of regular Portobello West vendors, can be found at the Rize Pop Up Shop at Kingsway and East 10th until August 27th.  See the gallery below for vendor product images.
Photos by R. Dolmat Photography.
The next Portobello West market will be at Creekside Community Centre on Sunday August 28th.  If you're one of the first 45 people in line at the front door on Sunday August 28th, you'll receive a free Portobello West lootbag.