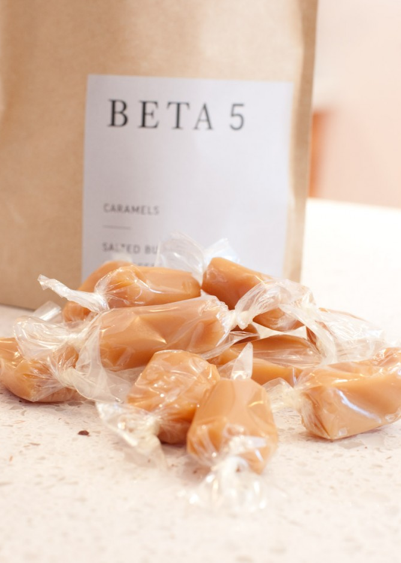 At the Portabello West 5-Year Anniversary Party  last week, I had a long chat with the fondeur (which loosely translates to "melter" in French) of BETA 5 chocolates, Adam Chandler. With a background of culinary arts and being a pastry sous chef at well-known hotels in Vancouver (including the Loden and Fairmont Pacific Rim), Adam has now moved on to his own business with BETA 5.
The first question I asked was why he had such a technical, scientific-sounding name for something as creative and delightful as chocolate?  The "form-5 beta crystal structure is the most stable for of cocoa butter crystallization, formed through the controlled melting, and subsequent cooling of liquid chocolate".  As a result, this molecular stability allows BETA 5 chocolates to be of the smoothest quality, with a distinctive, healthy shine and a crisp snap.  Turns out the art of chocolate making, is actually more of a science.
The ingredients for BETA 5 chocolates are purchased from a premium chocolate manufacturer from France.  This French manufacturer has direct relationships with 5 international plantations – including in Papua New Guinea and Venezuela.  These close relationships means factory relationships can be monitored for best practises of refining the crop, drying the cacao beans, and, in Adam's words, become "better stewards of the land".  Then, the actual chocolates are entirely handmade in Vancouver.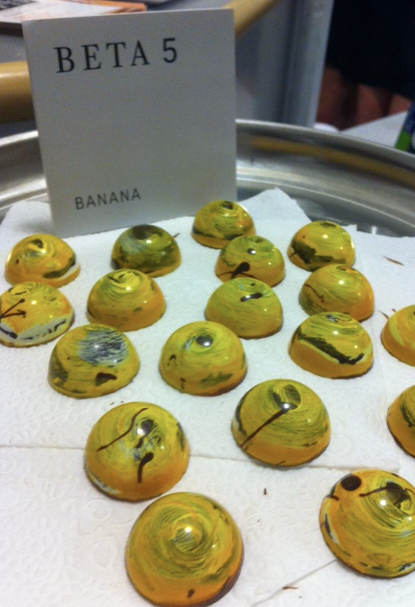 At the Portobello West event, I sampled a beautiful, hand-painted, banana-flavoured chocolate with a caramelized white chocolate filling.  It was incredibly smooth, like the texture of honey.  I also had their butter caramel pieces, which were creamy, but didn't stick to my teeth like other brands of sticky confectionary.  Besides chocolates and caramels, other confectionary creations from BETA 5 include chocolate covered fruits and nuts (sourced locally whenever possible), baked goods, and fruit jellies.
BETA 5 will be opening their free-standing store at 413 Industrial Avenue in September.  The shop will be open only once a week to guarantee fresh products made on the day they are sold.  The rest of the week, Adam will be busy fulfilling partnerships with local hotels who want to source BETA 5 chocolates for hotel amenities, VIP guests, thank-you chocolates and wedding parities.