White Spot – 4th Annual Pirate Pack Day (August 17th)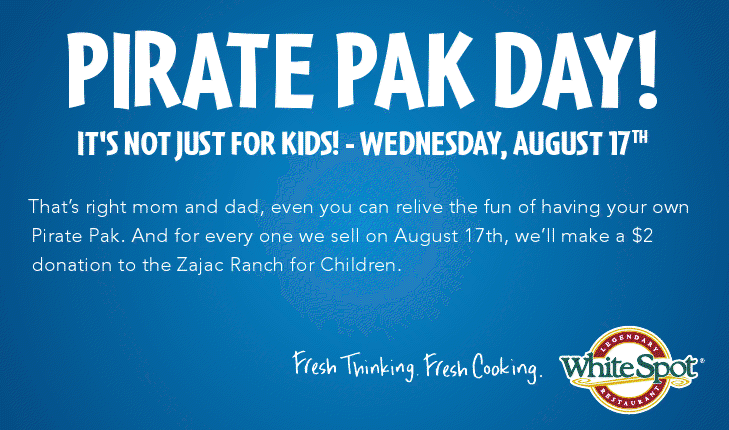 If you're like me, as a kid, I grew up ordering the Pirate Packs on the White Spot menu.  It was a sad day, when I realized I had grown too old to order the pirate ship meal.  But now, no worries, because for one day a year, the "10 and Under" caveat is taken off the White Spot Pirate Pack and adults can order them too.  To celebrate the fourth annual Pirate Pak Day on Wednesday, August 17, $2 from the sale of each kids and adult Pirate Pak and contributions received in lieu of Pirate Paks will be donated to the Zajac Ranch. Zajac Ranch is a longtime B.C. charity dedicated to giving children with life-threatening illnesses and chronic disabilities an unforgettable summer camp experience.
Here are some quick Pirate Pack Facts:
Exactly 775,592 Pirate Paks were sold last year.
Since 1968, more than 22 million Pirate Paks have been sold.
With the option of one per cent milk, juice and new sides like veggies and dip, grapes and steamed vegetables, there are more than 675 different Kids Pirate Pak combinations.
The Pirate Pak boat is 100 percent recyclable.
The most popular Pirate Pak item is the Pirate Pak Hamburger made with 100 per cent fresh Canadian beef and famous secret Triple "O" sauce.
UPDATE: A record 23,357 pirate packs were sold in one day, resulting in $46,714 raised for Zajac Ranch.