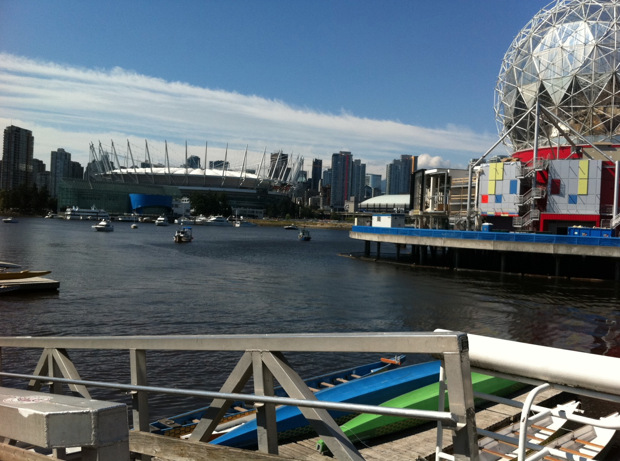 For those of you who like outdoor activities without actually being out in the wilderness, Creekside Kayak is an awesome choice for kayak rentals.  Twice in the past month, I've gone kayaking in False Creek.  It's no-pressure kayaking!  The waters is fairly flat, and if you get tired you can just float for a while, enjoy the downtown skyline and wave at the driver and passengers of the Aqua Bus.
The actual kayak rental center is in the Creekside Kayak Community Center (1 Athlete's Way) which is in the East side of the Olympic Village, about a 5 minute walk away from the Main Street Science World Skytrain Station.  You depart within view of Science World, and you are free to kayak all the way to the Burrard Street Bridge.  Rentals are $20/hour for a single kayak and $25/hour for a double ("tandem").  On Tuesday evenings from 4pm to 9pm, it's only $10 to rent for an hour.
Modern Mix Vancouver Recommendations:
DO make reservations.  They aren't required, but making a reservation ensures that there will be a kayak of your choice (single or tandem) available for your use.  Phone number is: 604-616-7453.
DO arrive early.  There will be waiver forms you need to sign and When you arrive early, you ensure that you will get to be out in the water for the full hour.
DO bring a change of clothing (especially bottoms).  You won't get super wet in the Kayak, but there's a chance water will splash into your seat as you are paddling.
DO store your valuables in a locker at the community centre.  Locks are available for rent for free, as long as you leave a piece of ID.
DO bring a friend.  You are obviously free to kayak on your own, but Kayaking in False Creek is a great, leisurely way to catch up with a friend (or two!)
Another option available is the 2-hour guided kayak tour.  Explore the centre of Vancouver with a knowledgeable guide who will introduce you to the neighbourhoods surrounding False Creek, including Granville Island, Main Street and Yaletown.  Not sure if you really need this if you are a local Vancouverite, but just thought I'd mention it as an option for out-of-town visitors.  It's $59/person, with a maximum of 8 participants per tour.
Creekside Kayaks is operated by Dragonboat BC.  For more information, check out their website at dragonboatbc.ca, Twitter @DragonBoatBC or Facebook Page.