Triple O's Mobile Food Restaurant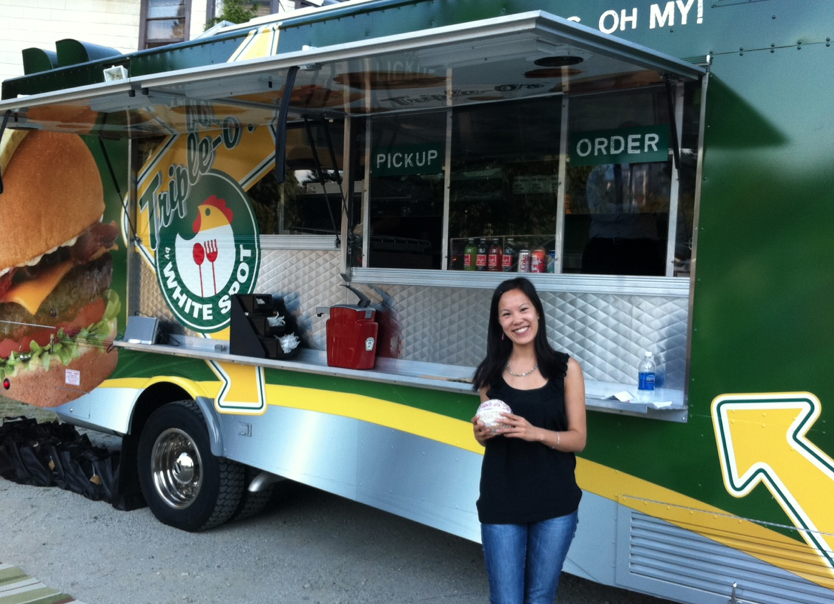 When the White Spot subsidiary Triple O's launched in 1997, it was meant to be a quick alternative to a meal at its sit-down parent company family restaurant White Spot.  Triple O's first branch, which still exists today, is in the heart of downtown Vancouver at Robson and Thurlow Street.  The retro diner, with its black-and-white checkerboard tiles served a condensed, simpler version of the original White Spot menu.  Mainly, burgers topped with White Spot's secret Triple O Sauce and hand-cut fries. Fresh food on the go!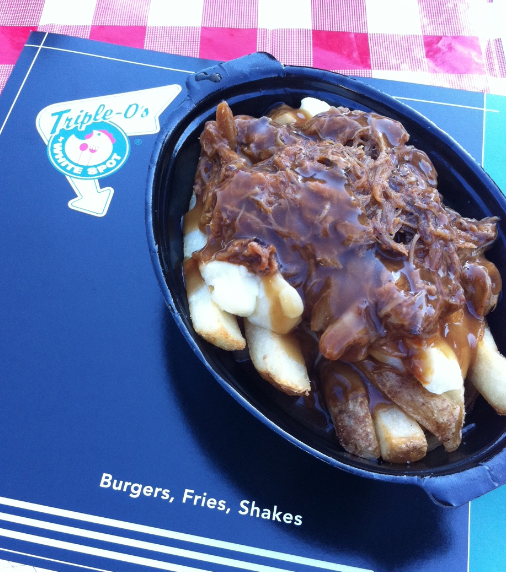 Nearly 15 years later, Triple O's is still on the go; quite literally, with its recent launch of their 30-foot mobile food cart.  Joining the likes of La Brasserie and Nu Restaurant, which are local restaurants who have recently branched out into a "street cart" version, Triple O's is utilizing its mobility to test potential new locations and menu items.  According to Warren Erhart, President of White Spot Limited, these are the two greatest "x-factors" of any restaurant organization, before putting a stake in the ground.  (Click here for a fun infographic from Mashable about the rise of the social food truck).
In celebration of Triple O's newest venture, members of the local media (including Modern Mix Vancouver) were invited to an outdoor picnic with never-before-eaten menu items from the mobile food truck in the parking lot attached to the White Spot on 12th and Cambie.  Red and white checkered cloths were laid over picnic tables, picked flowers were in glass bottles on the table, and bottles of pop were submerged in ice-y buckets of water…it felt like a good, old-fashioned family picnic.
That being said, here's a quick shout-out to The Pop Shoppe, which is an iconic Canadian soda pop brand that was founded in 1969.  A cultural icon just like White Spot, appropriately enough, this beverage can be purchased through the Triple O's mobile food truck.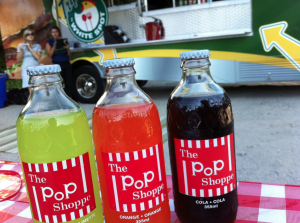 For the first picnic course, we were served pulled pork poutine.  A salty gravy with tender, shredded pork over familiar thick-cut french fries.  The second course was a chipotle BBQ bacon burger, which has a smokey and faintly spicy kick to it.  Two milkshake tasters were also served during the picnic.  A frothy, candied orange creamsicle milkshake – there's really no other way to describe it other than a liquified creamsicle.  The second flavour, a peanut butter mocha, was really sweet and nutty.  I wasn't a big fan of it, but to be fair, I don't usually like peanut flavoured sweets.  Milkshake portions are large and prices are reasonable – $2.69 for a 16 oz. and $3.99 for a 24 oz.
In general, the food items we tried at the event seemed to all be reminiscent of  "the olden days" as a tribute to White Spot's long-standing local history.  The only constructive feedback I have for the menu items is that there doesn't seem to be any healthy options on the menu.  Then again, with limited kitchen space in a mobile environment, it's hard to adapt to a wide variety of eaters – you just have to focus on what you're good at and stay true to your core menu items!
Lastly, I leave you with some interesting, historical facts about White Spot Restaurants.  These facts were all handpicked by me from the "Triple-O: The White Spot Story" book which we were given as part of the goodies in a gift bag we received from attending the Triple O's mobile truck launch event:
Nat Bailey, the founder of White Spot restaurants, was a huge fan of Baseball and sold hot dogs, peanuts and coffee at Athletic Park (now known as Nat Bailey Stadium at East 30th and Ontario Street) early on in his career.
White Spot was the first drive-in restaurant in Canada as well as the first carhop.
Some of the more unique items on White Spot's 1938 Christmas dinner menu included cottage cheese and pineapple salad and home-made hot biscuits with Jam or Honey.
In 1993, the first U.S. location of White Spot opened in Bellingham, Washington.  After conducting market research, it was discovered that the Americans wanted Mexican food.  As a result, the Bellingham menu included a Santa Fe Salad, a Mexican Omelette and Quesadillas.
For more information, visit the Triple O's website at tripleos.com and follow their tweets @tripleos.  The next confirmed sighting of the Triple O's food truck will be at the upcoming Abbotsford Airshow from August 12th to 14th.