Kiehl's – New "Ultra Facial" Oil Free Products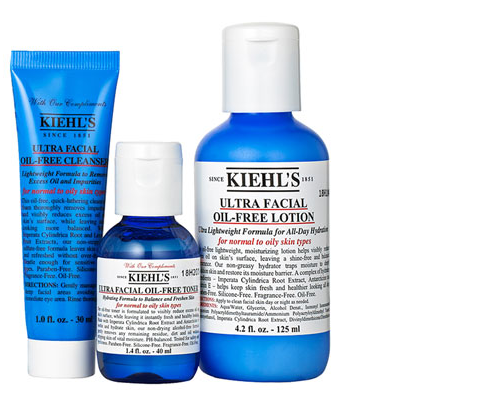 Kiehl's "Ultra Facial" skincare line is a classic Kiehl's product. It's the one-size-fits-all, hydrating, moisturizing, unscented, "can't go wrong" type of product that every brand has in its product portfolio. But what if there was something with all the benefits of "Ultra Facial", but better suited to your "normal to oily" skin type? Introducing the oil-free Ultra Facial line from Kiehl's. Recognizable in the same plastic bottle packaging but in a soothing shade of powder blue (hmm…powder absorbs oil, any connection here??), the newly launched Ultra Facial Oil-Free line from Kiehl's is an ultra-lightweight formula which provides all-day hydration without the greasy feel.
The moisturizer in the oil-free line has a slightly more gel-like consistency than the original Ultra Facial line which provides a vaguely cooling effect. As for the original "Ultra Facial" moisturizer I was using before, which I now realize may not be the best fit for my skin, I've started using it as a body lotion on my arms and legs instead of letting it sit on my shelf. Let no Kiehl's product go unwasted! The Kiehl's Ultra Facial Oil-Free Lotion is available for $32 for 125ml.