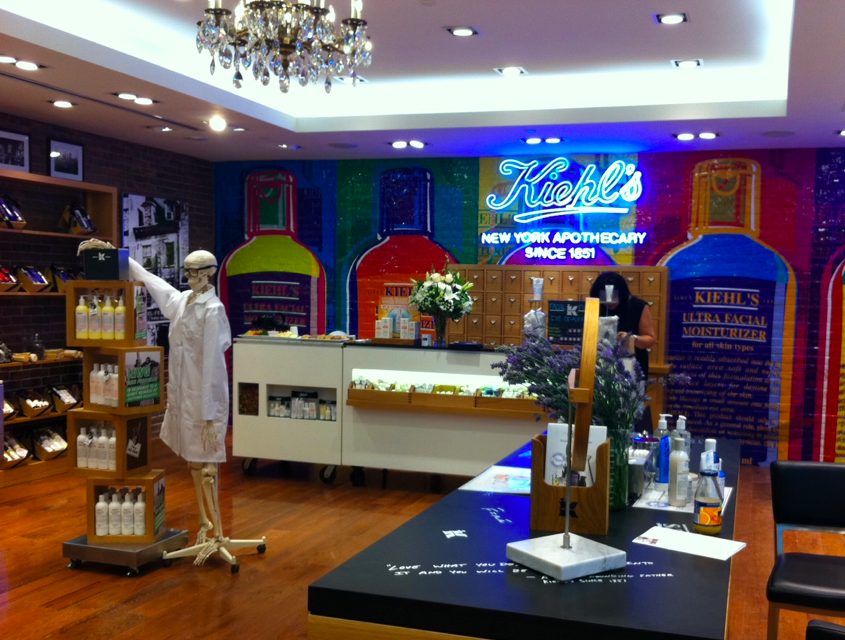 Earlier this week, I was invited to preview the new Kiehl's store opening on Robson Street on July 26, 2011.  Practically adjacent to their old location, the new Kiehl's at 1021 Robson Street takes advantage of the construction happening in the Robson Galleria as a reason to revamp their look. The new Kiehl's is about the same size as the previous location.  However, with less glass windows, and a standard rectangular space, it actually appears to be much more spacious because of its floor to ceiling shelving lined neatly with products.
True to its apothecary roots from the mid 1800's, the new look of Kiehl's on Robson features exposed brick walls, marble countertops and sterile looking stainless steel shelves, drawers and cabinets.  To support Kiehl's high standards of environmental responsibility, the brick walls and hardwood floor are both derived from reclaimed materials.  Bright lights and neon signage with retro logos gives the store a modern twist.  A shiny glass chandelier hangs from the ceiling (the original Kiehl's in New York had multiple chandeliers).
The iconic Mr. Bones, a teaching skeleton which is a reminder of the brand's commitment to science and education, stands casually in a white lab coat by a display of lotions (not potions!) in stacked cubic shelves.  At the back of the store, the walls are splashed with pop-art renditions of Kiehl's Ultra Facial Moisturizer.  Apparently, Andy Warhol used to be an avid fan of Kiehl's products.  The in-store renditions were done by the same artist who designed US President Obama's iconic "Hope" campaign posters.
On the other walls, framed vintage photographs chronicle the long-standing history of Kiehl's for the past 160 years.  Likewise with the vintage motorcycle on display; it was noticed by a previous owner of Kiehl's that men often linger around the store while the women shopped for products.  The Kiehl's owner at the time then put his own motorcycle collection on display for the men to look at while the women shopped.
To celebrate the relocation, on their July 26th opening day, Kiehl's will be hosting their widely-known "Shop For a Cause" initiatives.  On that day, 100% of sales proceeds will be donated to Vancouver's local Canucks for Kids Fund.  Vancouver Canucks alumni Dave Babych will also be on hand to ring the official "store-opening bell" and launch "Shop for the Cause".
Here are three very good reasons why you should shop at Kiehl's:
160 years of history – they've had lots of time to get it right!  Kiehl's was founded in New York's East Village neighbourhood and has, over the years, specialized in a unique blend of cosmetic, pharmaceutical, herbal and medicinal knowledge that has been refined, adapted and perfected over the years.
A product line for everyone – the staff at Kiehl's recognizes that skincare isn't a "one size fits all" regime.  Through their attentive staff service, complimentary one-on-one consultations are often conducted in-store to help choose the best products suited for your skintype.  I would also like to note that it is completely possible that you may want to pick and choose your favourite products from different lines to create the best combination unique to you.  For example, I loved the facial lotion and toner from the new oil-free line at Kiehl's (look for the same packaging as the "Ultra Facial" product line, but in blue plastic containers) but I preferred the micro-gritty feel of the deep pore daily cleanser from the "Rare Earth" line.  Nothing wrong with picking and choosing!  Kiehl's also has a men's line, packaged in manly indigo blues and bold red packaging.  For the Modern Mix Man, my recommendation is Kiehl's "Facial Fuel" line.
Generous sampling program – supporting the "try before you buy" program, over 70% of Kiehl's products are available in sample sizes.   There are also occasional giveaways on their Facebook Page.  Lastly, when you do buy, Kiehl's also offers a 100% money back guarantee.
Stay tuned on Modern Mix Vancouver for upcoming reviews on Kiehl's products.