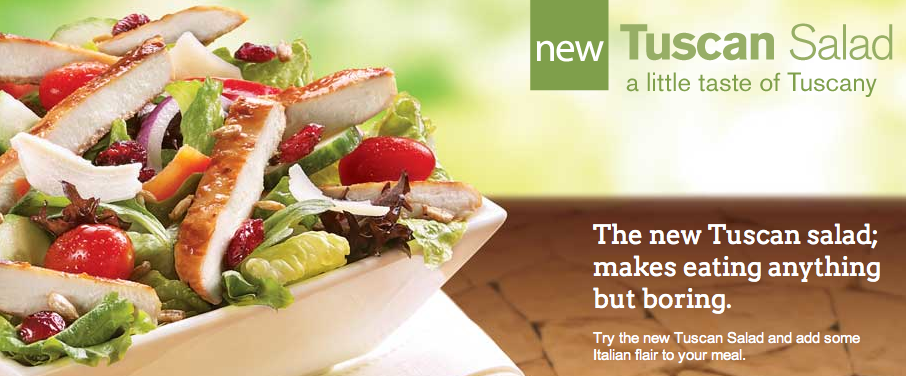 Take away your pre-conceived notions about Mcdonald's – it's not just burgers, fries and pop anymore.  In fact, it hasn't been for a long time.  More often than I thought, I've had their yogurt for breakfast, their coffee in the morning and a salad for lunch. Just in time for summer, McDonald's has added a limited time offer Italian-inspired salad entrée to its delicious line-up.
"The new Tuscan Salad blends bold flavours and eclectic ingredients to take you on a taste journey to Tuscany.  Grape tomatoes, seasoned sunflower seeds, sweet cranberries, shaved Parmesan cheese, red peppers, red onion and cucumbers cover a bed of mixed greens, romaine, iceberg and leaf lettuces. Drizzle with Renée's Roasted Garlic Yogurt Dressing and top with your choice of seasoned grilled or crispy all-white meat chicken breast.  Take a taste journey to the Italian countryside with the delightfully fresh Tuscan Salad or re-discover McDonald's other bold salad entrées, including the Mighty Caesar, the Spicy Thai or the Southwest."
Modern Mix Vancouver wants to give you a chance to try Mcdonald's new Tuscan Salad.  Comment below with your opinion on what makes a great salad and enter to win a random draw for a $50 Mcdonalds Gift Card as well as coupons for free Tuscan Salad so you can try the new menu item for yourself.  A random commenter will be chosen on Wednesday July 20th to win the prize.  Please be sure to leave your name and email address in the comment so we can contact the winner!  Good luck!