Theatre Under the Stars 2011 (July 8th to August 20th) at Malkin Bowl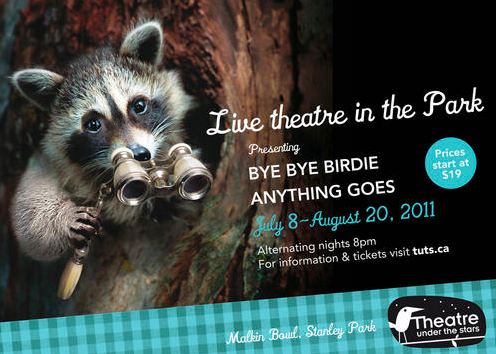 This year, rain or shine, I will be volunteering at Theatre Under the Stars.  This annual summer live theatre event will be featuring two alternating musicals at Malkin Bowl at Stanley Park.   Bye Bye Birdie is set in the 1960's as all teenages across North America are going crazy for "Elvis Presley-style" rock star Conrad Birdie.  Meanwhile, "Anything Goes" takes place on the S.S. American, which is sailing from New York to England.  A cast of wacky passengers include a ganger, a wealthy debutante and her mother, a nightclub singer and a wealthy New York businessman.
Great way to enjoy the outdoors, while being entertained by these performances.  I highly recommend for you to check out these shows – tickets start at $19 and there are different types of discounts for students, or if you go on certain days.  All shows start at 8pm, except on fireworks nights, shows start at 7pm. Hope to see you there!