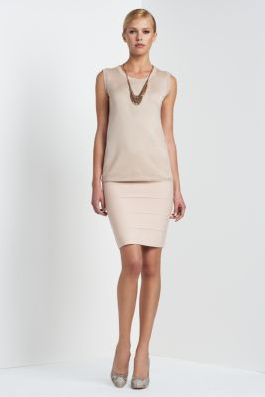 At the beginning of spring, I went to a press event for BCBGMAXAZRIA to see what trends were in store for the upcoming 2011 season. I was also the lucky winner of a $1000 shopping spree to BCBGMAXAZRIA (which I have mostly spent) so I am well-equipped and greatly familiar with BCBGMAXAZRIA's Spring 2011 collection.
The BCBGMAXAZRIA colour trend for 2011 consists of an overall dusty pastel pink, grey, white and cream color scheme. Various contrasting feminine materials were set side by side in comparison: eyelet and stiff lace patterns in feminine tops, tulle paired with lace and large floral patterns.
In my shopping experience, I stayed mainly within the "ready to wear" collection (bottom floor of Robson location). I could generally describe the RTW collection as smart contemporary.  Definitely with a business influence, but way sexier than business-casual. For example, I purchased the Alexa Power Skirt (shown left in Light Peach) which is deceivingly business-like with its sturdy, high waisted elastic fit, but its butt-tight "bandage wrap" fit and above-the-knees cut makes the item more appropriate for a night out on town instead of for the workplace.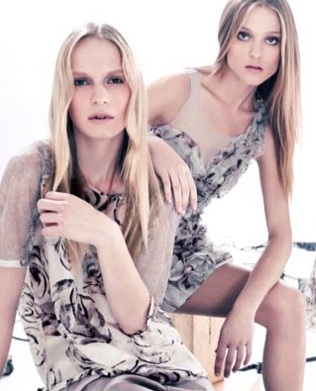 To match my new high-waisted "Power" skirt, I looked for a silk top that I could tuck into the skirt.  There seemed to be a considerable assortment of oversized, flowing silk tops in multiple fits and patterns.  Choices included a silky three-quarter length sleeved shirts with military style pockets, a oversized silk shirt with diagonal blocks of black, grey and white, and a stiff blouse with an eyelet cut-out pattern.  A romantic, grey floral pattern made its way into multiple fashion items (see right), but in the end I decided on the white Tristen oversized silk blouse, with its grey feather print, instead.  Don't forget to pick up an ultra comfortable spandex camisole to help with your fashion layering.
The aforementioned cut-out eyelet pattern continued its way into BCBGMAXAZRIA's Spring 2011 accessories.  In fact, they have a whole separate catalogue dedicated to just that.  Pink, grey or white handbags with a quilted cushion weave (similar to the iconic Chanel pattern) are hung on with chain straps.  Perforated textures add contrast and character to accessory pieces.   Jewelry in the Spring 2011 collection consists of structured, metallic items.  Flat, geometric cut outs on a wire necklace, thick faceted bangles and jewel-drop crystal earrings.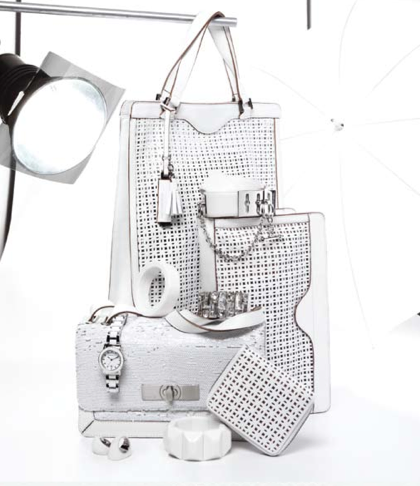 In terms of service at BCBGMAXAZRIA stores, I did most of my shopping with my mom at the Pacific Centre retail location.  Our lovely sales assistant, Brittney, made our shopping experience incredibly enjoyable and treated my mom and I with excellent service.  Brittney was friendly but professional in her manner and stylish by example (she is currently in school to become a fashion stylist).  The first time my mom and I went to BCBGMAXAZRIA, we went to try on multiple outfits but ran out of time to purchase anything.  When we came back a week later, we specifically looked for our sales assistant Brittney (we gave her our word that we'd be back to find her!), who in return, told us about a sale-by-invite-only BCBGMAXAZRIA event coming up that week where everything in-store would be 20% off.  Because of Brittney, we were able to make the most of the $1000 we had to spend and stretch our dollar to the Max(azria)!  A week later, we received a hand-written card in the mail thanking us for being customers at BCBGMAXAZRIA.
As I've found, the BCBGMAXAZRIA Spring 2011 ready-to-wear line is a great way to class up your style with re-wearable pieces.  I love the silk material for spring, especially for when the weather gets nicer in Vancouver.  The downside is, because of the high-maintenance of silk items, I will definitely have to be more cautious about where I wear my new pieces to and give them extra-careful treatment when I'm wearing them out and be sure to hang them up as soon as I get home.
Thanks again, BCBGMAXAZRIA, for the $1000 shopping spree!  You'll be glad to know I've made the most of it.