Modern Mix Man – S'well Bottle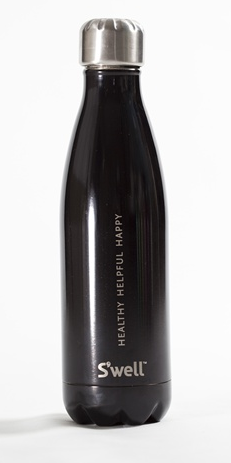 You know you've chosen a great gift when the (male) recipient of your S'well Bottle gift texts you a thank you beginning with with "This water bottle is sick!!".  Merging fashion, a charitable cause, and functionality, S'well is a perfect gift for active men on the go.  For example, the S'well Bottle can be used for a morning hike or round of golf.  Use it as a container for hot tea in the morning and as the day warms up and you work up a sweat, switch to ice-cold water instead.  S'well bottle represents a new advancement in metal water bottle insulation, with its ability to keep cold beverages cold and hot ones hot longer.
As S'well founder Sarah Kauss tells me, users in Vancouver are more of the hiking and sporty type, whereas in Eastern Canada, customers are more likely to be corporate workers interested in design.  The bottles are stainless steel and are virtually unbreakable; durable for sports but fashionable as an accessory and functional as … well, a beverage container!
S'well bottles also tie-in with a charitable cause, to help the guys in your life give back while keeping cool. Through a partnership with WaterAid, every S'well bottle sold will support programs improving access to safe water, hygiene and sanitation in the world's poorest communities. According to the World Health Organization, one-sixth of the world's population does not have safe access to clean water. To help combat this unfortunate reality, S'well will donate 10% of all sales to support programs providing fresh drinking water to communities in need through a partnership with WaterAid.
S'well bottles are sold online at store.swellbottle.com.  The only potential concern I'd flag to MMV readers is that shipping to Vancouver is an additional $10 flatrate on a $35 product pricetag.