GOSH – Spring 2011 Nail Lacquers
Meet Miss Mole and Miss Sweety, the newest GOSH colours in my nailpolish collection.  First of all, I need to mention that 90% of my nailpolish colors are in the pink genre so trying these brown and neutral shades was definitely a new experience for me.
A good thing about GOSH Nail Lacquer (or at least in the Miss Mole colour) is that its consistency is thick enough to only wear one, quick-drying layer.  Maybe I'm speedier than average, but it took me only 5 minutes to paint my nails on both hands with one layer.  The texture is dense like paint, which means it is less likely to be watery and therefore streaky.  For the most part, I was able to "stay in the lines" because the thicker consistency meant the polish was less runny and easier to control.  Could also be because the wider bottle lid gives a more controlled grip when painting the nails.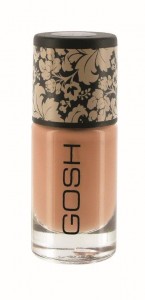 Miss Mole is a muddy brown color, perhaps with grey and mauve undertones.  Keep your nails short and blunt for a chic, androgynous look; you don't want creepy long brown nails!  Take off the nailpolish before it gets a chance to chip – Miss Mole looks better when it's painted with clean, purposeful lines.
Miss Sweety is a peachy nude colour.  Looks a bit plastic-y on my hands, like an in-store mannequin.  I have less to say about this colour because it's so neutral.  May look nicer on darker skin tones so there is a contrast with your skin.
GOSH Nail Lacquer is available at Shoppers Drug Mart and Pharmaprix stores across Canada.  At $7 and free of DBP Toluene and Formaldehyde, GOSH Nail Lacquer is on the affordable end of the "three free" spectrum.