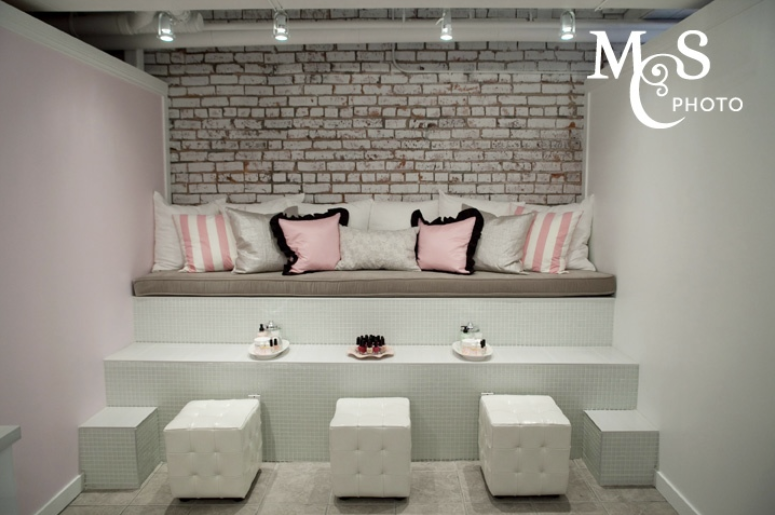 Last month, I had a chance to visit Frilly Lilly Beauty Boutique (1076 Hamilton Street) in Yaletown and had a chat with franchise owner Alana Henrikon while getting my toenails pedicured.
I found the Frilly Lilly Beauty Boutique very well put together, with a jewelry and bath & body section at the front and the pampering in the back.  The cozy, girly space definitely has a princess feel to it.  For pedicures, I sat on a high bench (like a throne!) with pink, black and creme coloured pillows surrounding me.  Alana tells me that many pieces of furniture came from down the street at The Cross Decor and Design; some pieces were custom designed.  No wonder the decor feels so Yaletown!  The exposed brick wall behind me, gave it a rustic but home-y feel, like I was in a girlfriend's studio apartment in ….. hmm, let's say New York!  Even the Frilly Lilly branded nailpolish exuded femininity  – I noticed most of the colors are in red/pink tones – there weren't any unique or crazy colors in unusual or daring hues.  "Innocent" is a baby pink, "lavish" is a coral orange, and "prosperous" (the colour I chose for my toenails) is a gold-flecked red.
Aside from manicures and pedicures, Alana tells me that Frilly Lilly's concept also specializes in waxing.  In particular, waxing for down there… Choose from one of four cheekily named styles: The Alaskan (Stay warm this winter, just a little off the sides, please), The Canadian (O Canada! Perfect for the Canadian bikini.), The Hawaiian (Aloha! Bare'ly there.) and The Brazilian (Nothing's left. That's right. Nothing.).  Frilly Lilly is a one-stop shop for girly pampering, providing a service for customers that they can't do (as well) on their own.
Check out some of the Frilly Lilly photos in the gallery below: