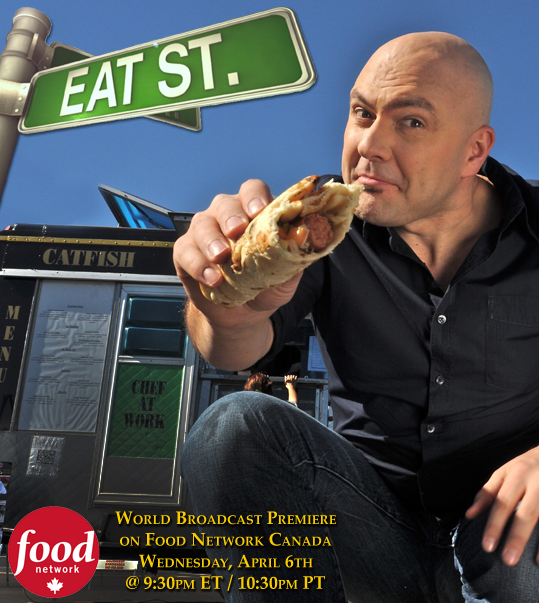 Ever since Vancouver went through its selection process for street food vendors, it's become an everyday treasure hunt to find the food vendors in the city. If you're fascinated by street food culture, you may want to check out "Eat Street" on the Food Network which premiers Wednesday April 6th at 10:30pm.
Eat street is the "new destination is for those who know that some of the world's most inventive chefs serve their creations through the window of a food truck. Those who believe that a delicious meal tastes even better when you buy it with your spare change and eat it perched on a curb. Or those who simply appreciate the joy of finding a city's best hot dog."
I went to the Eat Street launch party this evening and got to preview the pilot episode of the show.  The fast-paced documentary highlights these unique businesses, their recipes and fan loyalty.  Four North American street food vendors were featured in the first episode, including a Grilled Cheese Sandwich Truck in Los Angeles and "Schnitzel & Things" in New York.  After the episode screening, Vancouver-based Cartel Taco served up Korean-fusion tacos for the hungry crowd.
Also present at the Eat Street launch event was Invoke Media, which is the digital agency behind the Eat Street mobile application.  Already available as a freedownload, use this handy iPhone application to help you find street vendor locations in your area.  Currently, Vancouver-based Roaming Dragon and Japadog are on Eat Street's list of Top 5 Carts.