Modern Mix Man – Marc Jacobs Bang
Modern Mix Man is a new feature on MMV which focuses on the "male counterpart" of products which have been previously reviewed on the site.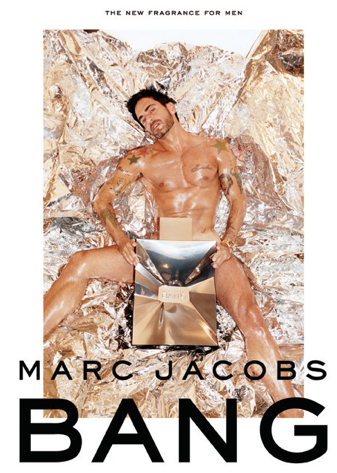 Marc Jacobs BANG has entered the male fragrance market with, for lack of a better word, a bang! This distinct bottle is hard to miss with its bold black and silver design. The smoky black heavyweight faceted glass bottle is contracted with high shine silver metallic plaques shielding front and back – giving off a powerful and masculine feel.
As Marc Jacob's newest scent in almost a decade, BANG has ignited the men's marketplace with a dynamic balance of modern sophistication and irresistable scent.   Marc Jacobs BANG is peppery, woody and spicy. Its top notes consists of a threesome of black, pink and white peppercorn.  And it's interesting to note that an oiled up Marc Jacobs is the model behind the BANG advertisements – lying naked on a silver sheet with only an oversized bottle of BANG to cover up his parts, giving the entire campaign a personal touch when you know the designer himself is behind this project.
BANG is available at The Bay, Murale, Shoppers Drug Mart, London Drugs and Sephora, the Eau De Toilette Spray retails for $69 and $95 (50ml and 100ml).  Matching products in the same line includes aftershave balm ($67) and the deostick ($32).